We Can't Even Imagine a World Without Amazon Because That Was TheImpact Created By  The Billionaire Jeff Bezos, The Man Behind Amazon.com. Jeff Bezos Stated That He Thought Amazon would be Failure. But Now Amazon Is 3rd Largest Tech Company In The World In Terms Of Market Cap With $1.57 Trillion and Amazon Is Largest Tech Company In Terms Of Revenue.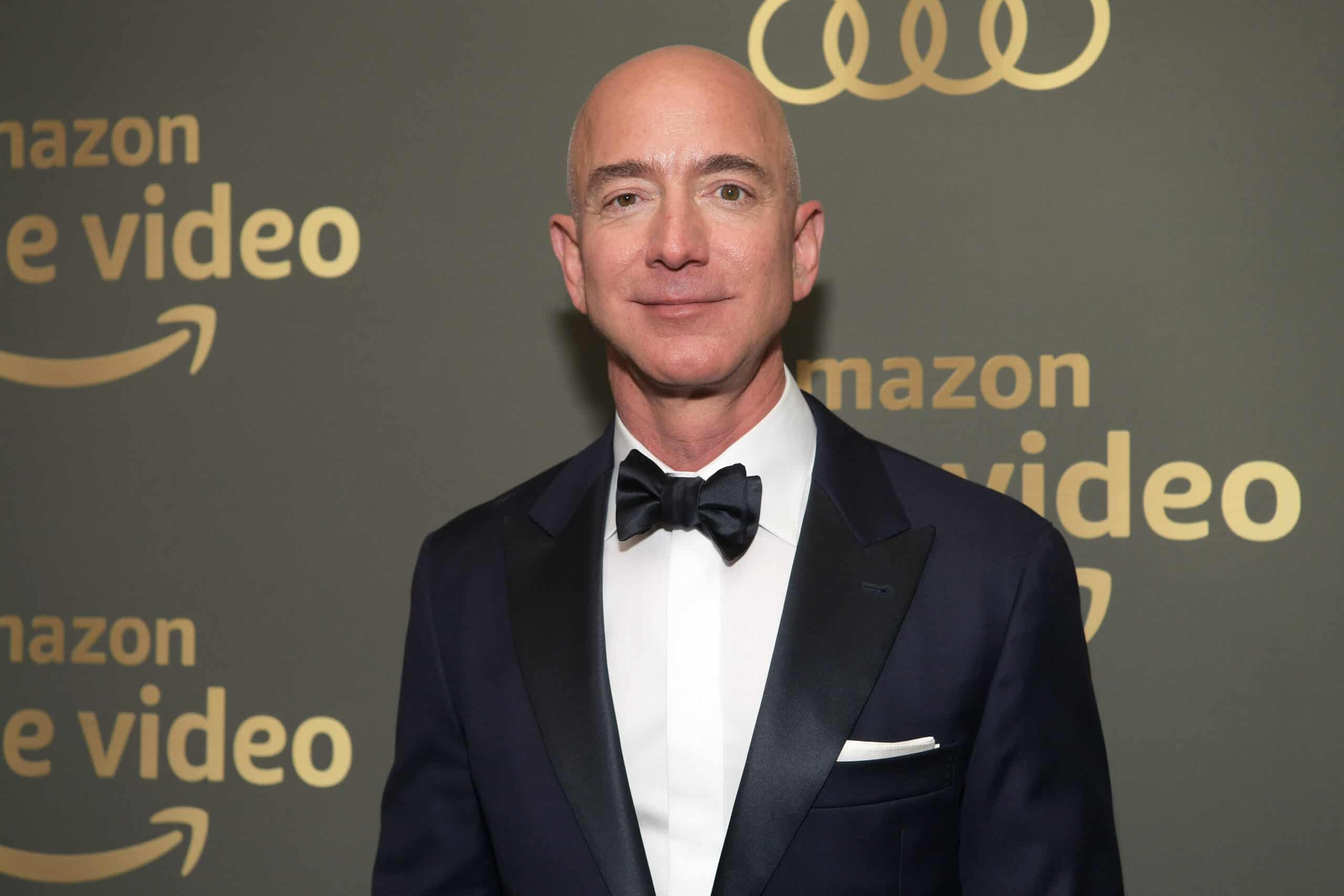 So How Big is Amazon?
Amazon Has Retailers In 18+ Countries Around The World. Amazon Has Over 45% Market Share In US E-Commerce Market and Around 13.7% Market Share In Global E-Commerce Market. So Let's Dive Deep Into How Big Is Amazon By Sector Wise.
Amazon's Businesses and Sectors : 
E-Commerce
Streaming Services ( Video and Music )
Cloud Computing
E-Books and Audiobooks
Game Streaming
Payment Services
Space Technology
Smart Speaker
Amazon E-Commerce ( The Starting Point ): Jeff Bezos Created Amazon as an E-Commerce Company Later Gaining  Dominance In E-Commerce Amazon Entered Other Businesses Too.
Amazon Has Retailers Over 18+ Countries and Ships Products To 100+ Countries Around The Globe. Each Minute Amazon Earns Over $283,000 and It Ships Around 6,659 Products Every Minute.
Amazon Has Huge Dominance In US E-Commerce With Over 45% Market Share Which Makes It a Monopoly In E-Com Market In the US. But Amazon Lags Behind Alibaba In Global E-Com Market In Terms Of Revenue.
Soon Amazon Is Planning To Launch Drone and Airship Delivery Services.
Streaming Services ( Amazon Prime ): Amazon Prime Is Biggest Success In Jeff Bezos Life Because Amazon Launched Prime Video in Sep 2006 Which Gained Traction After 2010. Now Prime Video is Available To 150+ Countries Around The Globe.
One In Every Three Person In US Has Subscribed To Prime Plans and Amazon Prime Has Over 170+ Million Paid Subscribers.
Later Amazon Has Launched Prime Music, Prime Reading, and Prime Pantry In a Single Subscription. And Also Amazon Prime Members Have The Priority Delivery Service and Other Compliments Too.
Cloud Computing ( AWS ): Amazon Is Ruling The Cloud Market With Around 33% Market Share. Amazon Has Launched Its Cloud Service Called Amazon Web Services In July 2002 But It Was From The Mid Of 2004 It Was Launched To Public Usage Later Amazon Reformulated The AWS and Finally Re-Launched On March 2006 With Multiple Features.
Amazon Web Service has Over 1 Million+ Customers Including Netflix, Nasa, Facebook, Adobe, and Other Biggies Too.
Amazon Web Service Customers Saves More Than 50% Money Than Using There Own Storage. For Example, If Netflix is Spending $100,000 On There Own Servers But AWS Costs Them Just $49,000 a month.
AWS Has Over 40+ Server Location Around  The World.
E-Books and AudioBooks: Amazon Has Started Online Book Store. Even Now Amazon Is Largest Online Book Store. Amazon Has Over 60% Market Share In E-Book Market. Amazon's Kindle Got Huge Traction From Book Readers. Later Amazon Has Acquired Audio Book Startup Called Audible In 2007. It Is Projected To Reach 20 Billion USD By 2027 In Revenue.
Amazon Sells Over 500 Million Ebooks In US Alone.
Game Streaming: Amazon Entered Game Streaming In 2014 By Acquiring Streaming Platform Called Twitch Gaming For Around $970 Million. Later Changed To Prime Gaming In 2020.
Prime Gaming Has Over 55% Market Share With 728 Million Streaming Hours.
Payment Services: Amazon Launched It's Own Payment Services To Grab Its Consumers But Failed Miserably.
Market Share Of Amazon Pay In Payment Service Is Just 3.5%.
Space Technology: Jeff Bezos Launched His Dream Project Called Blue Origin A Space Exploration Company In 2000 Just 4 Years After Starting Amazon.
The Agenda Of Blue Origin Is To Built a Large SpaceShip To Humans At Affordable Price With High Reliability. In May 2019, Jeff Bezos unveiled Blue Origin's Vision For Space and Also Plans For a Moon Lander Known as Blue Moon Set to be Ready by 2024 Even His Competitor Elon Musk Founder Of SpaceX Has Told His Mission Will Be Ready By 2024.
Smart Speaker: Amazon Launched First Ever AI-Enabled Smart Speaker In 2014 Which Changed Whole Smart Speaker and Voice Assistant Industry. Later It Was Copied By All Tech Giants and Speaker Companies.
Amazon Called It as Alexa. First Amazon Launched Three Devices Called Echo Dot, Echo, Echo Plus. Later They Launched Alexa App.
Amazon Alexa Has Over 55% Market Share In Smart Speakers. Followed By Google Home With a 30% Market Share.
Revenue By Year
Amazon Sales Sky Rocketed During This Covid-19 Times. Amazon Has Reported More Than $75 Billion In Q4 2020 Which Is Recorded As the High Ever In Amazon
Amazon revenue for the quarter ending June 30, 2020, was $88.912B, a 40.23% increase.
Amazon's Annual Revenue For 2020, was $321.782B, a 27.66% increase From Last Year.
Amazon's Annual Revenue for 2019 was $280.522B, a 20.45% increase For  2020
Amazon's Annual Revenue for 2018 was $232.887B, a 30.93% increase For  2020
       Net Profit By Year
Amazon's Net Profit for the quarter ending June 30, 2020, was $5.243B, a 99.73% increase.
Amazon's Annual Net Profit For  2020, was $13.180B, an 8.96% increase From Last Year.
Amazon's Annual Net Profit for 2019 was $11.588B, a 15.04% increase From Last Year.
Amazon's Annual Net Profit for 2018 was $10.073B, a 232.11% increase From Last Year.
So How Amazon Makes Money.  
Acquisition:
Acquisition By Amazon: Amazon Has Acquired More Than 100+ Companies Till Now and Some Have Integrated With Their Services and Some are Still Operating As Individual.
Biggest Acquisition By Amazon:
Whole Foods – $13.7 Billion – Individual Operations
Amazon's boldest move yet, buying Whole Foods signals Amazon's goal of becoming a transcendent brand that touches every aspect of daily life. Most people need to buy groceries every week – and that gives Amazon a new and more frequent window to interact with customers.
Zappos – $1.2 Billion – Individual Operations
Known for its obsessive customer service and company culture, Zappos was most likely bought by Amazon for its team.
Kiva Systems – $775 Million – Integrated With Amazon Robotics
Now re-branded as Amazon Robotics, this company specializes in manufacturing mobile robotic fulfillment systems for Amazon's array of warehouses.
Elemental Technologies $296 Million – Integrated With AWS
Amazon's AWS unit has integrated Elemental's unique mobile video technology into its cloud infrastructure services.
Lovefilm – $312 Million – Integrated With Prime Video
Thought as the "Netflix of Europe", Lovefilm's streaming services were re-branded as Amazon Prime.
Souq.com – $580 Million – Individual Operations
Amazon bought this Dubai-based retailer to improve its footprint in the Middle East – and to prevent global competitors like Alibaba and Flipkart from making inroads in the market.
Quidsi – $500 Million – Sold
Bought by Amazon in 2011, Quidsi ran six shopping sites, including Diapers.com, Soap.com, and Wag.com. After a brief stint at Amazon, Quidsi founder Marc Lore left to start Jet.com – which was sold to Walmart for $3.3 billion.
Audible – $300 Million – – Individual Operations
Owning the leader in audiobooks was a no-brainer for Amazon, and the Audible acquisition went down in 2008.
Annapurna Labs – $370 Million – Individual Operations
This secretive Israeli semiconductor chip designer was snatched up by Amazon in 2015.
Twitch – $970 Million – Re-Branded As Prime Gaming
Amazon bought Twitch, a video game live streaming company, in 2014 when the service was flush with 55 million subscribers. Today, Twitch.tv is the 40th most visited website worldwide and is particularly known for its broadcasts of eSports competitions.
11 Facts About Jeff' Bezos's Amazon: 
Amazon's Original Name " Cadabra " Later Renamed To "  Amazon " As His Lawyer Advised To Change It.
CIA Is a Customer Of It's Cloud Services Called AWS Which Deal Is Said To Be Around $600 Million in 2013.
More Than 8% Of Top 10K Sites Are Amazon Affiliates.
Amazon Fire TV Is Set To Reach 62 Million Users By 2022 In the US.
Amazon AppStore Has Over 400K Apps and 80K+ Publishers.
Amazon Fulfilment Center In Phoenix US Is Equivalent To 28 Football Fields.
Amazon Employees Over 900,000 Around The World
Amazon Market Cap Is Equivalent To Largest 9 Retailers In US Market Value Combined. Which Includes Walmart, The Home Depot Etc.
Amazon Hasn't Paid Even a Single Dollar To Federal Taxes For Two Years.
Jeff Bezos Expected His Employees To Work At least 60 Hours a Week.
If You Type Relentless.com In Your Brower It Redirects To Amazon.com
Conclusion: Amazon.com Is Bigger Than We Think. 🧐
Thanks For Reading. ❤️