The Walt Disney Company, commonly known as Disney, is an American multinational media and entertainment corporation headquartered at Walt Disney Studios in Burbank, California.
Disney was originally founded on October 16, 1923 by brothers Walt and Roy O. Disney as Disney Brothers Studio and also operated under the names Walt Disney Studio and Walt Disney Productions before being renamed Walt Disney Company in 1986.
| | |
| --- | --- |
| Name | The Walt Disney Company |
| Founded | October 16, 1923 |
| Industries served | Mass media |
| Geographic areas served | Worldwide |
| Headquarters | U.S.A |
| Current CEO | Bob Chapek |
| Revenue | $ 67.418 billion (2021) |
| Profit | $ 1.995 billion (2021) |
| Employees | 195,000 (2021) |
Lets us see the overview of Walt Disney Company before moving on to Walt Disney Mission Statement and Vision Statement.
Overview of Walt Disney Company
Early on, the company established itself as a leader in the animation industry by creating the widely popular character Mickey Mouse, the company's mascot, and began producing animated films.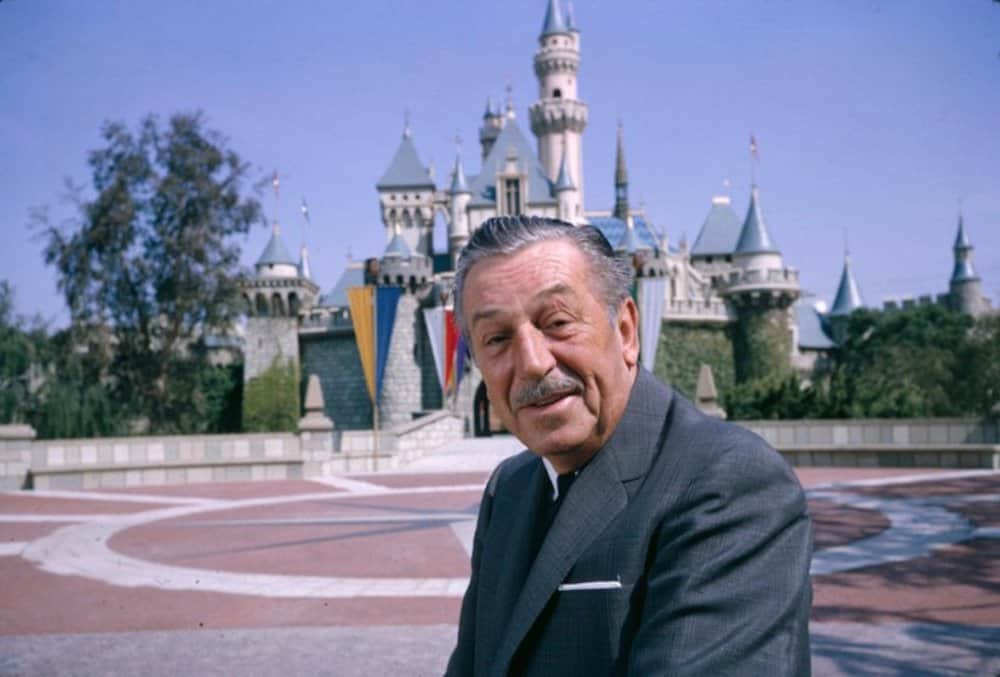 After becoming a huge success in the early 1940s, the company began diversifying into live-action films, television and theme parks in the 1950s. After Walt's death in 1966, the company's profits began to decline, especially in animated films. After Disney shareholders elected Michael Eisner to head the company in 1984, the studio experienced overwhelming success in what became known as the Disney Renaissance. In 2005, under new CEO Bob Iger, the company began to expand and acquire other companies. After Iger's resignation, Bob Chapek took over as Disney's CEO in 2020.
Since the 1980s, Disney has created and acquired divisions to market more mature content than is typically associated with its family-oriented flagship brands. The company is best known for its Walt Disney Studios film studio division, which includes Walt Disney Pictures, Walt Disney Animation Studios, Pixar, Marvel Studios, Lucasfilm, 20th Century Studios, 20th Century Animation and Searchlight Pictures.
Disney's other major business segments include television, broadcasting, streaming media, theme parks, consumer products, publishing and international operations. Through these various segments, Disney owns and operates the broadcast network ABC, cable television networks such as Disney Channel, ESPN, Freeform, FX and National Geographic, publishing, merchandising, music and theater divisions, direct-to-consumer streaming services such as Disney+, Star+, ESPN+, Hulu and Hotstar, and Disney Parks, Experiences and Products, which includes several theme parks, resort hotels and cruise lines around the world.
Disney is one of the largest and most recognizable companies in the world, ranking 53rd on the Fortune 500 list of the largest companies in the United States by revenue for 2022, and has won a total of 135 Academy Awards since its inception, 26 of which have been awarded to Walt. The company is also credited with producing some of the best movies of all time and revolutionizing the theme park industry.
Disney has been criticized for alleged plagiarism, the portrayal of racial stereotypes in the past, and the inclusion or lack thereof of LGBT-related elements in its films. The company, which has been listed since 1940, trades on the New York Stock Exchange (NYSE) under the ticker symbol DIS and has been a component of the Dow Jones Industrial Average since 1991. As of August 2020, nearly two-thirds of its shares were held by major financial institutions.
Walt Disney Mission Statement
The Walt Disney Company's mission statement is "To entertain, inform and inspire people around the globe through the power of unparalleled stories, reflecting the iconic brands, creative minds and innovative technologies that make us the world's leading entertainment company." This mission statement describes the key aspects of Disney's business as follows:
Entertainment, Information, Inspiration
Global market reach
Unique and world-class status
Storytelling, branding, creativity and innovative technologies
A look at the company's history shows that its mission statement is consistent with what the company values most – people. This aligns with the first characteristic in Disney's mission statement, which describes that the company prioritizes the well-being of communities.
This also relates to the second component, where Disney implements various programs aimed at empowering people and making positive changes in their lives. For example, the company has a philanthropy initiative that includes activities that put smiles on the faces of children and other young people. In particular, it provides and improves facilities to support patients, such as the 2018 $100 million program that has made a huge impact on the lives of many patients around the world.
In pursuing these goals, Disney never abandons its primary purpose of entertainment. The company continues to demonstrate its acumen and skill when it comes to creativity and delivering content that is both entertaining and informative. Disney parks, experiences and products add many more outstanding experiences to this collection.
There is so much here for customers to enjoy Disney reality. Finally, Disney's last feature in its mission statement shows that it is not a predictable company. It goes without saying that Disney is second to none in entertainment and mass media.
Walt Disney Vision Statement
Disney's vision is to be "one of the world's leading producers and providers of entertainment and information" By claiming to be the world's undisputed provider of the services it offers in all dimensions, including quality and reach, Disney underscores its leadership.
Such a company is able to support industry-related development initiatives that benefit all players without worrying about competition. This is exactly what Disney does, as demonstrated by the following characteristics in its vision statements:
Global leader
Leader in Production and providing entertainment and information.
Although the company was founded in the United States in 1923, Disney has already achieved its goal of becoming a multinational company that operates on a global scale. Today, the company has a presence in virtually every country in the world, making it a global leader in its operations. The second characteristic illustrates why Disney is so highly regarded in the industry and by the customers it serves.
The company is simply self-sufficient in this area. It does not rely on outside help to get its operations done, from creating content to providing various services in the industry. In fact, its services are used by many other emerging companies, making it a mentor for other affiliates and players in the industry. Therefore, the company prides itself on empowering and entertaining the whole world at the same time.
Also, Read Meta Mission Statement & Vision Statement in 2022 (Formely Facebook)
Walt Disney's Core Values
Disney's core values include: "Make everyone's dreams come true, you better believe it, never a customer, always a guest, all for one and one for all, share the spotlight, dare to dare, practice, practice, make your elephant fly and capture the magic with storyboards." Disney's strength is built on a set of principles that guide the company.
The company believes in creating a work environment where everyone feels wanted, safe and motivated to do their best. It does this by encouraging its employees to take bold steps into the future, embracing technological developments, supporting businesses and taking calculated risks. In this way, Disney supports its experts regardless of whether they fail, because the company knows that through such efforts, employees make their "elephants fly" This, in turn, explains the exceptional content and information that sets the company apart.
Recommendations By Business Mavericks – Walt Disney's Corporate Mission and Vision Statement
Mission Statement: This corporate analysis of Disney shows that the company is focused on achieving a leading position in its international industries. The corporate mission statement contains sufficient information to guide the media and entertainment company's management and strategies in the areas of product development, organizational structure, and marketing.
The specificity of this corporate mission statement helps to reinforce the business advantages and strengths identified in The Walt Disney Company's SWOT analysis to face competition from Sony, Universal Studios, and other companies. Because of its consistency with the corporate vision, the current corporate mission statement can be used as an effective tool to guide strategic decision-making processes among managers in the media and entertainment industry. However, an important recommendation is to improve the mission statement by adding parts related to business aspects such as Disney's human resources and its connection to storytelling, branding and innovative technologies.
Vision Statement: The Walt Disney Company vision statement complements the mission statement. The corporate vision is forward-looking and clear in terms of the media company's strategic aspirations. For example, Disney strives to be the leader in the global market for entertainment products. These features of the vision fulfill some of the conventions of writing corporate visions and help focus Disney's management aspirations.
However, this vision statement does not specify what type of "information" the company provides. Therefore, to improve the corporate vision, it is recommended that The Walt Disney Company include a more detailed description of the "information" it intends to provide as one of the leading companies in the global industry.
Reference