Tata Motors Limited is an Indian multinational automobile manufacturer headquartered in the Indian city of Mumbai, part of the Tata Group. The company manufactures cars, trucks, vans, coaches, luxury cars, sports cars and construction equipment.
Let us look into the Overview of Tata Motors and then we can move on to the SWOT Analysis of Tata Motors.
Overview of Tata Motors
Tata Motors was Formerly known as Tata Engineering and Locomotive Company (TELCO), the company was founded in 1945 as a manufacturer of locomotives. The company produced its first commercial vehicle in 1954 in a collaboration with Daimler-Benz AG that ended in 1969.
Tata Motors entered the passenger car market in 1988 with the introduction of the TataMobile, followed by the Tata Sierra in 1991, making it the first Indian manufacturer to develop a competitive domestic automobile. In 1998, Tata launched the Indica, the first fully indigenous passenger car, and in 2008 launched the Tata Nano, the world's most affordable car. Tata Motors acquired South Korean lorry maker Daewoo Commercial Vehicles Company in 2004 and bought Jaguar Land Rover from Ford in 2008.
Tata Motors' major subsidiaries include premium British automaker Jaguar Land Rover (maker of Jaguar and Land Rover vehicles) and South Korean commercial vehicle maker Tata Daewoo. Tata Motors has a joint venture with Hitachi (Tata Hitachi Construction Machinery), which makes construction equipment, and a joint venture with Fiat Chrysler, which makes automotive components and Fiat Chrysler and Tata brand vehicles. On October 12, 2021, private equity firm TPG invested $1 billion in Tata Motors' electric vehicle subsidiary.
Tata Motors has car manufacturing and vehicle plants in Jamshedpur, Pantnagar, Lucknow, Sanand, Dharwad and Pune in India, as well as in Argentina, South Africa, the United Kingdom and Thailand. The company has research and development centres in Pune, Jamshedpur, Lucknow and Dharwad in India, as well as in South Korea, the United Kingdom and Spain. Tata Motors is listed on the BSE (Bombay Stock Exchange), where it is a component of the BSE SENSEX index, as well as the National Stock Exchange of India and the New York Stock Exchange. The company is ranked 265 on the Fortune Global 500 list of the world's largest companies ( as of 2019).
On January 17, 2017, Natarajan Chandrasekaran was appointed as the Chairman of Tata Group. Tata Motors has increased its UV market share to over 8% in FY 2019.
Recently, Tata Motors Signed MOU With Equitas SFB 
Did You Know?
One of the unknown facts about Tata Motors is that the company manufactured India's first sports car called RACEMO under the name of its sub-brand TAMO. The car is powered by a 190 PS engine that can achieve 0 to 100 km/h speed in less than 6 seconds!
SWOT Analysis Of Tata Motors
The SWOT Analysis of Tata Motors includes its strengths, weaknesses, opportunities, and threats. And in this reading of the SWOT Analysis of Tata Motors, we will examine this beauty and wellness company in terms of its internal and external factors.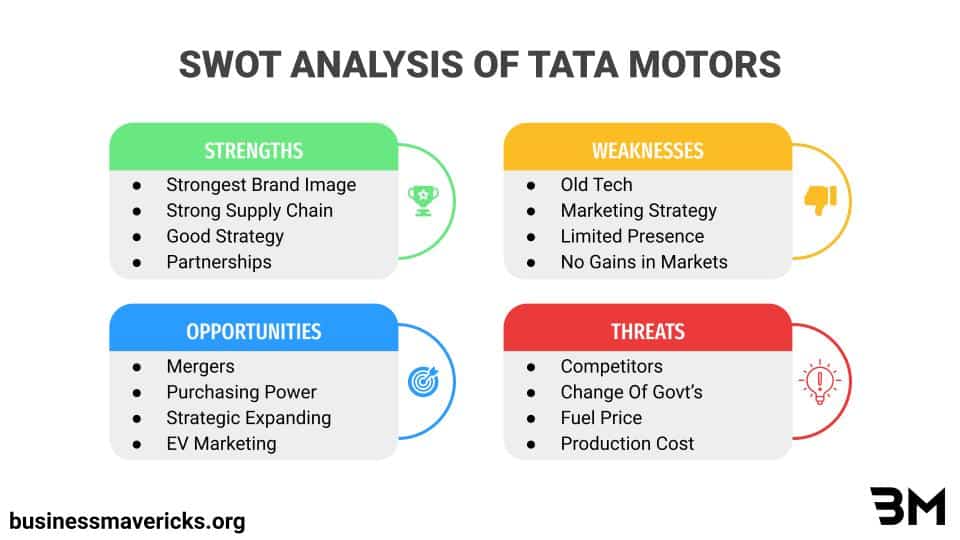 S Stands For Strengths ( Internal Factor )
Large and diversified product portfolio: Tata's product portfolio is broad and well-diversified. The well-diversified automobile portfolio helps in stabilizing revenues and earnings. This stability strengthens investor confidence in Tata Motors.
Brand Awareness: TATA is a well-known brand in the home country and neighbouring countries like Bangladesh, Pakistan, Nepal etc.
Stable Revenue: revenue has stabilized. Tata has a strong method of corporate governance. Tata Motors acquires companies that are similar in their management structure. They follow this policy only because they have confidence in their management policy objectives.
Large employee base: the company employs a large number of people. More than 82,797 workers are working in Tata Motors.
Hiring policy for local managers: the past internationalization policy was to retain local managers in new acquisitions and transplant only a few senior managers from India to the new industry. In this way, Tata is able to exchange technical expertise
Good strategy: good strategy is the key to success and is necessary for the expansion of the company. Tata Motors not only focuses on acquisitions and new products but also has an efficient management development system to produce leaders and loyal employees.
Alliances: since 2006, Tata Motors has entered into an alliance with Fiat for mass production. This has improved the product portfolio of Tata and Fiat in terms of development and information sharing.
Premium Segment: Premium automotive brands Land Rover and Jaguar are owned by Tata Motors.
Global strategy: To retain local managers for new acquisitions and just transplant a few senior managers from India to the new market. This has the advantage that Tata could share expertise. For example, after the Daewoo acquisition, the Indian company learned how to be disciplined and how to get the end product right the first time.
Also, Read SWOT Analysis Of Tesla ( The Largest Competitor Of Tata Motors In EV Market )
W Stands For Weaknesses ( Internal Factor )
Global presence: the global car market is growing at a rapid pace. If it is confined to a particular area, it is a strong barrier to growth as other international companies can enter the same sector. Tata has been silent in gaining global market share. So far, the company has not penetrated into other foreign markets.
Ineffective marketing strategy: the strength of a company lies in a sound marketing strategy. This way, a company can know the requirements of its customers and manufacture the products accordingly. This also helps in connecting with the customers and educating them about the value they have to offer. TATA lacks a clear marketing strategy to promote its business globally.
Limited presence in the domestic market: Tata has not marked its presence in too many countries. Tata Motors needs to try and tap into international markets.
Use of old technologies: The company's passenger car products are based on old platforms which are the biggest disadvantage for Tata Motors in competing with its rivals among car manufacturers.
Indifferent to change: The automobile industry is a highly competitive market. Every company remains competitive in this industry because most of the automobile companies are very old and experienced in this business. They sell a modern model and cars that are technically up to date. But in this case, Tata Motors are indifferent. Its big base model is old.
Unable to gain a foothold: Tata has no foothold for luxury cars in the Indian market. The brand is known for commercial vehicles and affordable passenger cars.
Nano is the cheapest car in the world:  The launch of the Nano car was one of the biggest failures of Tata Motors. This is because they failed to maintain the quality and price.
O Stands For Opportunities ( External Factor )
Strategic positioning: to create a positive brand identity, a company must have a clear marketing strategy. It can also enable building a good customer base in India and around the world. To reach new markets and position itself, TATA Motors must have aggressive marketing and advertising strategy.
Mergers and Acquisitions: Mergers and acquisitions are a common tradition in the automotive industry. As one of the oldest companies in India, Tata has a long history of success. As the company grew larger, it acquired the ability to make acquisitions. The company also has a proven management policy that can help in managing newly acquired companies.
Growing purchasing power of Indians: the sales of a product largely depend on the price of the products. If the cost is fair, a company can easily produce new cars that are technically advanced and meet the sales target. As Indians are earning more than before, they have more purchasing power.
Expanding the car market: modernizing the world. The citizens are relying heavily on transportation facilities. This will boost the sales of automobiles. Since Tata still has the potential to enter another international market, the company has a great opportunity to grow.
In the summer of 2008, Tata Motor's announced that it had successfully purchased the Ford Motors Land Rover and Jaguar brands for £2.3 million. This added two of the world's best-known luxury car brands to its brand portfolio, which would certainly give the company the opportunity to sell luxury cars.
In 2004, Tata Motors Limited bought Daewoo Motor's commercial vehicle business for about $16 million.  Electric cars are the new generation demand. Tata Motors needs to launch new electric cars to compete with new emerging players.
The company can enter new markets. The Super Milo range of fuel-efficient busses is powered by super strong eco-friendly engines. The bus has an optional organic clutch with the booster and better air intakes that reduce fuel consumption by up to 10%.
T Stands For Threats ( External Factor ) 
Fuel Price: Fuel prices affect vehicle sales not only in India but also globally. The price of fuel and car sales are directly linked. So if the price of the product goes up, the sales will go down. This is the biggest threat for an automobile manufacturer like TATA Motors.
Government environmental laws: many countries are developing laws on carbon emissions. If India introduces this type of law, TATA may have to produce more carbon-efficient cars, which will require additional investment.
Industry pressure: There is so much competition in the auto industry. These companies are also selling redesigned cars that are fuel-efficient, updated models, technology and eco-friendly.
In this sector, TATA has many strong competitors. So the company has to be vigilant to become more successful. Tata Motors is facing tough competition from the players in the automobile market. Hence, Tata Motors Limited has to focus on quality as well as lean manufacturing.
The rising cost of production: competition has increased in this new age. As a result, the cost of production is higher than before as the company has to be more competitive and offer innovative products.
Environmental policies: Conservation and environmental protection could require additional costs. This could affect the competitive advantage that the company is based on. Of course, this problem will reduce as Tata globalizes and acquires new brands.
Luxury segment competition: Tata Motors is lagging behind in the luxury car segment. Tata Motors needs to launch new luxury cars with good and competitive technical features. The players in the luxury car market are giving tough competition to Tata Motors. Luxury carmakers like Ford, Toyota, Kia, etc. will be the main competitors of Tata Motors.
Aluminium and steel prices may pose a major threat: Rising global economic prices can pose a major threat. Steel and aluminium prices put constant pressure on production costs. Conclusion: Tata's engines have more strengths than weaknesses. It is a locally organized company, which means that most of its business activities take place locally. It will develop new strengths and use its potential prospects to expand it further. To compete with the new foreign entrants, Tata Motors needs to develop high-quality interiors and trims for its car models.
SWOT Analysis Of Tata Motors 

Key Takeaways
The SWOT Analysis of Tata Motors highlights where the brand currently stands and its threats in this era. Following the detailed SWOT Analysis of Tata Motors Here are a Few Important Key Points.
Strong Brand Image
Has Huge Potential To Overtake EV Market in Future
Strong Supply Chain System
Suggestions:
Following the detailed SWOT Analysis of Tata Motors, we have a few suggestions from Business Mavericks:
Need to focus on marketing
should also focus on the international markets
Tata Motors STP & USP
Segment: Hatchback, sedan & SUV segment
Target Group: Targeted towards upper-middle-class customers

Positioning: Tata Motors is positioned as a leader in the automobile market inculcating innovative technologies to deliver value to customers.
Tata Motors USP
Tata Motors is one of the oldest and most trusted brands with extensive distribution and market penetration in India.
Tata Motors Product Portfolio
1. Tata Sumo                             2. Tata Safari
3. Tata Indica                             4. Tata Indica Vista
5. Tata Indigo                            6. Tata Manza
7. Tata Indigo Marina               8. Tata Winger
9. Tata Magic                            10. Tata Nano
11. Tata Xenon XT                   12. Tata Aria
13. Tata Venture                       14. Tata EV
Tata Motors Competitors
Nissan Motors: Nissan Motor Co, Ltd. is a Japanese multinational automobile manufacturer headquartered in Nishi-Ku, Yokohama, Japan. The company markets its vehicles under the Nissan, Infiniti, and Datsun brands and offers in-house tuning products (including cars) under the Nismo brand. The company traces its origins to the early 20th century Nissan zaibatsu, now called Nissan Group.
Toyota Motors: Toyota Motor Corporation is a Japanese multinational automobile manufacturer headquartered in Toyota City, Aichi, Japan. The company was founded by Kiichiro Toyoda and incorporated on August 28, 1937. Toyota is one of the largest automobile manufacturers in the world, producing approximately 10 million vehicles per year.
Maruti Suzuki: Maruti Suzuki India Limited, formerly known as Maruti Udyog Limited, is an Indian automobile manufacturer based in New Delhi. It was founded in 1981 and was owned by the Government of India until 2003 when it was sold to Suzuki Motor Corporation. As of September 2021, Maruti Suzuki had a 49 per cent market share in the Indian passenger car market.
Volkswagen: Volkswagen is a German motor vehicle manufacturer headquartered in Wolfsburg, Lower Saxony, Germany. Founded in 1937 by the German Labour Front and known for its iconic Beetle, it is the flagship of the Volkswagen Group, the largest automaker by global sales in 2016 and 2017. The group's largest market is China, where 40% of its sales and profits are generated. The German word " Volk" means "people", so Volkswagen translates as "car of the people".
Tesla Motors: Tesla, Inc. is an American electric vehicle and clean energy company based in Palo Alto, California, United States. Tesla designs and manufactures electric cars, battery storage for home use to grid power, solar panels and solar roof tiles, and related products and services.
In 2020, Tesla achieved the most sales of battery electric vehicles and plug-in electric vehicles, claiming 16% of the plug-in market (including plug-in hybrids) and 23% of the battery-electric (all-electric) market. Through its Tesla Energy subsidiary, the company develops and installs photovoltaic systems on a large scale in the United States. Tesla Energy is also one of the world's largest suppliers of battery storage systems, with an installed capacity of 3-gigawatt hours (GWh) in 2020.