Unacademy is an Indian online education platform headquartered in Bangalore. Initially started as a YouTube channel in 2010 by Gaurav Munjal and In 2015 Unacademy officially got launched by Gaurav Munjal, Roman Saini ( EX-IAS ), and Hemesh Singh.
Today, the company has achieved astonishing growth with over 18,000 educators and over 15 million users on its platform in few years. Let's see the Unacademy business model after a short glance at the Company.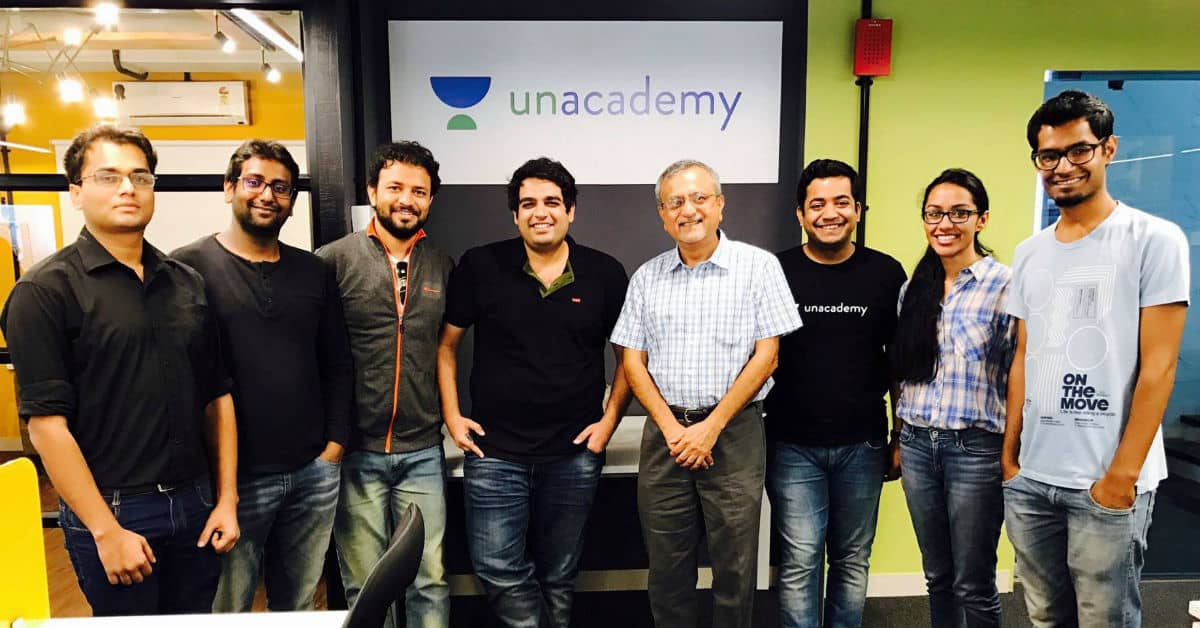 Unacademy Founders and Its Team
Unacademy was founded by three friends Gaurav Munjal, Roman Saini, and Hemesh Singh as a YouTube in 2010 with a vision of changing the Indian educational system, later registered their Unacademy as a company in 2015.
Gaurav Munjal is Chief Executive Officer ( CEO ) of Unacademy before that he founded Flatchat which he later sold to Commonfloor in 2014.
Roman Saini is Chief Educator of Unacademy. he cleared the AIIMS examination in 2016, then cleared the Civils examination in 2013 but he quits IAS job to reinvent the Indian educational system.
Hemesh Singh is Chief Technology Officer ( CTO ) of Unacademy who worked with Gaurav Munjal's Flatchat as CTO.
Unacademy Team
Unacademy has over 4500+ employees working day and night to create a seamless platform for its users.
Unacademy Name Meaning and Tagline
The Unacademy name states that this learning platform is so much different from the conventional methods of education, unlike an institution or academy which is accessible to everyone.
Unacademy Tagline is "  India's Largest Learning Platform " 
Unacademy Valuation Or Net Worth
As Of 17th August 2021, Unacademy is valued at $3.44 Billion.
Unacademy Mission and Vision Statement
Unacademy's vision is to offer numerous courses in multiple languages to students around the world. Unacademy aims to work with the brightest minds and empower Indian youth, who constitute 19% of the world's population, to navigate the modern world by matching its faculty with its students. 70% of its learners come from tier 3 cities where there is a shortage of top teachers. As a result, the startup is focused on expanding its teachers, languages, and adding more exams to the existing mix.
By leveraging technology and highly qualified teachers, we aim to move closer to our mission of democratizing education at all levels, starting with exam preparation.
"We are seeing unprecedented growth and engagement of learners in smaller cities and are delighted to see high caliber educators choosing Unacademy as their primary platform to reach students," says Gaurav Munjal, CEO of Unacademy.
Unacademy Business Model
Unacademy works on ( Business to Business ) B2B and ( Business To Customers ) B2C business models.
Where its main chunk of revenue comes from paid membership they offer.
and also, Unacademy has adopted a freemium business model. where it offers some of its content for completely free even no ads will be placed and to access high-quality content and all of its services will charge a subscription fee.
Unacademy Subscription Plans
Unacademy Plus has nearly 100,000 subscribers offering paid educational services. These paid subscriptions are Unacademy's primary source of revenue.
Learning Resources – Unacademy offers a wide range of learning resources for students to support their learning. These are mainly of two types:
Pre-recorded videos
LIVE sessions
Although most of the pre-recorded videos are free to watch, the live sessions are chargeable.
How Successful is Their Business Model?
As they are offering content for free with ads and a reasonable fee for its subscription plans they have gained over 15 million users on their platform in just a few years.
Unacademy Revenue Model With Its Revenue and Growth.
Currently, Unacademy earns revenue from 2 main sources which are
Subscription Plans: 

all courses at Unacademy are free and well-equipped with recorded video lectures on a variety of topics. However, it offers paid live courses for removing doubts and proper lectures through a premium subscription called Unacademy Plus.

There may also be a cost for some practice tests and quizzes at times, and a limited number of free practice tests are offered. However, all study material and recorded lectures remain free throughout. These "paid live lectures" make up the majority of Unacademy's revenue model.
YouTube Channels: Unacademy has over 20+ YouTube channels with separate Channels for different topics like for JEE they have Unacademy JEE and for NEET they have Unacademy NEET and so on. few channels have over 1m subscribers and the majority of the channels have 100k subscribers with over 3 billion views combined
Unacademy Revenue and Growth
Unacademy saw a 4x increase in revenue from Rs 21.8 Cr ( $2.93 Million) in FY2019 to Rs 86 Cr ( $11.56 Million ) in FY2020. It had reported a net loss of around Rs 300 cr. $40.34 million ).
Unacademy recorded expenses of around Rs 112 crores ($18 Million ) to see a little over 10% in fund inflows around Rs 12 crores ( $1.7 Million ) in FY 2019. The company's losses jumped from Rs 23.58 crores ( $2.8 Million ) to around 91 crores ( $15 Million ) in the same year. This was a 290% increase compared to FY 2018, where the company saw only 28.82 crores ( $3.3 Million ) in expenses.
Unacademy Funding and Investors
As of Today August 2021, Unacademy has raised a total of $837.5 Million in funding in 11 funding rounds from many investors.
| Date | Stage | Amount | Investor |
| --- | --- | --- | --- |
| May 2016 | Seed | $500K | Blume Ventures,Rajan Anandan, Sumit Jain, and others. |
| 13th January 2027 | Series A | $4.5 Million | Nexus Venture Partners, Blume Ventures, Stanford Angels and Entrepreneurs, and others. |
| 13th September 2017 | Series B | $11.5 Million | Sequoia Capital, Nexus Venture Partners, Blume Ventures, SAIF Partners. |
| 16th July 2018 | Series C | $21 Million | Elevation Capital, Sequoia Capital (India), Nexus Venture Partners, Blume Ventures, SAIF Partners. |
| 26th June 2019 | Series D | $50 Million | Steadview Capital, Sequoia Capital India, Nexus Venture Partners, Blume Ventures, Sujeet Kumar, and others. |
| 19th February 2020 | Series E | $110 Million | General Atlantic, Blume Ventures, Facebook, Flipkart, Sequoia Capital India, Kalyan Krishnamurthy, and others. |
| 2nd September 2020 | Series F | $150 Million | SoftBank Vision Fund |
| 25th November 2020 | Venture Round | - | Dragoneer Investment Group, Tiger Global Management |
| 13th January 2021 | Secondary Market | $50 Million | - |
| 23rd February 2021 | Venture Round | | Sachin Tendulkar |
| 1st August 2021 | Series H | $440 Million | Temasek Holdings |
Unacademy originally received its first funding of $500,000 in seed funding from Blume Ventures in May 2016. The most recent funding was a $440 million Series H funding from Temasek Holdings on September 2, 2020.
One of the Investor's message
We were thrilled with how rapidly Gaurav (Munjal) and the team converted some of our collective product brainstorming sessions into an amazing live-streaming product and a subscription business for the test prep market," said Shailendra Singh, Managing Director of Sequoia Capital.
Unacademy Acquisitions
Unacademy has acquired 10 startups to date, strengthening its position in Edtech Sector. On July 26, 2021, the company acquired Rheo TV, a Bangalore-based video streaming app, which is the company's latest acquisition.
2018, Wifistudy for $10 million. Wifistudy is YouTube-based online exam preparation and learning platform founded in 2013 by Dinesh Godara. Wifistudy focuses on public service exam preparation.
April 2020 Kreatryx, founded in 2014 by Ankit Goyal to expand preparation services GATE and ESE.
June 2020 CodeChef, a Mumbai-based online platform for competitive programming.
July 2020 Chandigarh-based NEET PG online coaching Prepladder for $50 million.
July 20, 2020 Equity invested in Mastree, a K12 learning platform, by investing $5 million.
Sept 2020 UPSC test prep platform Coursavy.
Dec 30, 2020, Delhi NCR-based test preparation startup Neostencil.
Feb 16, 2021, a majority stake in TapChief, in Feb 2021.
March 23, 2021, CAT preparation platform Handa ka Funda.
July 26, 2021, Rheo TV is an online video and game streaming platform. Unacademy Competitors
Unacademy has undisclosed the acquisition's value for many companies.
Unacademy Competitors
Khan Academy
Khan Academy is an American non-profit educational organization founded in 2006 by Sal Khan to develop a series of online tools for educating students. The organization produces short lessons in the form of videos. The website also contains additional exercises and materials for educators. All resources are available free of charge to users of the website and application.
Byju's
Byju's is an Indian multinational education technology company headquartered in Bangalore. It was founded in 2011 by Byju Raveendran and Divya Gokulnath. As of June 2021, Byju's is valued at $16.5 billion, making it the world's most valuable education technology company.
Blueprint
Bluprint (formerly Craftsy) operates an online learning platform that offers courses with video lectures, interactive online courses, and related study and background materials in sewing, knitting, quilting, baking, cooking, art, and more.
Toppr
Toppr is developing an exam preparation platform to help students prepare for various entrance exams in India.
In this Khan Academy appears to be the major Competitor for not only Unacademy but also to all the Edtech companies as they provide premium content for free.
Unacademy Brand Ambassadors
In February, Sachin Tendulkar had picked up a strategic stake in Unacademy and also became its first celebrity brand Ambassador of Unacademy and Recently Unacademy has signed a two-year contract with a former Indian skipper MS Dhoni on 11th august 2021 for an undisclosed amount.
Important Facts About Unacademy
Unacademy currently has more than 20 million students learning through the app, with nearly 2.5K+ free live courses taking place every day.
Unacademy has hired more than 55 thousand highly qualified teachers.
Anyone with a smartphone and a good internet connection can learn from anywhere in the country. Moreover, Unacademy strives to reach even the remotest parts of the country.
Unacademy saw a huge increase in its revenue from €22 million in the fiscal year 2019 to €86 million in the fiscal year 2020, which is almost four times its previous revenue. This makes knowing Unacademy's revenue model even more interesting.
Unacademy Future Goals
The total market size of this EdTech startup is expected to reach $287 billion by 2023, up from $160 billion in 2017. With the largest offering of free educational videos and more than 100 million views per month, the company is working to create videos in multiple languages to help students worldwide, provide valuable content and exam preparation modules for all kinds of exams, and partner with great minds to build a strong student network.