Zerodha is an online discount brokerage firm founded in 2010 by brothers Nithin and Nikhil Kamath. It is headquartered in Bengaluru, India, and is the largest brokerage firm in the country with over 5 million clients. Zerodha offers a variety of trading and investment services, including stocks, derivatives, commodities, and mutual funds. It is also a significant member of the BSE, NSE, and MCX-SX exchanges.
Zerodha Business Model is based on a low-margin, high-volume approach. The company charges a very low commission on trades, which attracts a large number of clients. This, in turn, generates a high volume of trades, which helps to offset the low commission rate. Zerodha also has very low operational costs, which further contributes to its profitability.
Zerodha's revenue comes from a variety of sources, including:
Commissions on trades
Interest on margin loans
Trading fees
Subscription fees for its educational and research products
Other income, such as advertising and sponsorships
Zerodha's success can be attributed to several factors, including:
Its low-cost business model
Its strong technology platform
Its focus on customer service
Its innovative products and services
Its strong brand
Zerodha is a significant player in the Indian financial markets and is well-positioned for continued growth. The company is committed to providing its clients with the best possible trading and investment experience, and it is constantly innovating to meet the needs of its customers.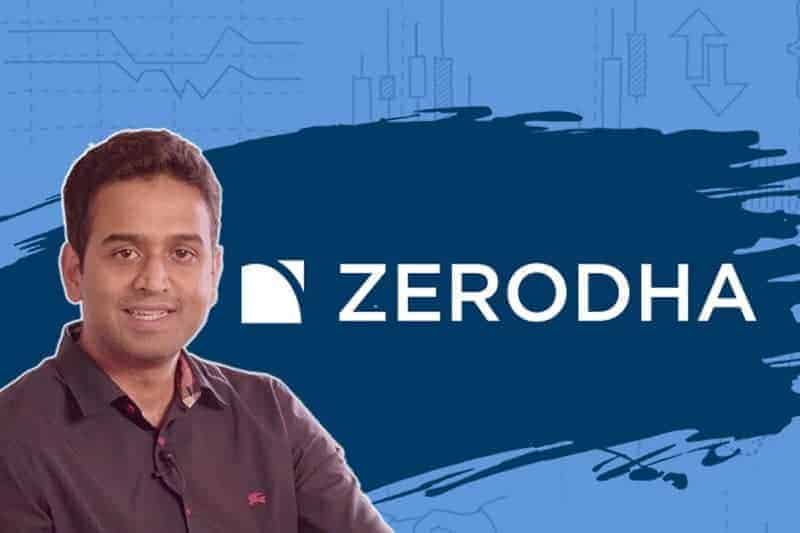 How Nithin and Nikhil Kamath Started Zerodha?
Nithin Kamath started his trading journey when he was just Around 18 Years old. Later, he joined a call center to work at night and trade during the daytime. He quit his job and started working as a sub-broker in reliance on money. Later he felt that retail investor needs more than this. That is where his journey starts Zerodha, which is a discount brokerage first in India. He and six others began the Business and now have over 1250 employees.
What is Zerodha and Its Meaning?
Zerodha Is a Financial Services Company Providing Brokerage Facilities, Trading platforms, Mutual Funds, and Commodity Trading At Lower Rates.
Meaning Of The Word " Zerodha "
Zerodha's name is derived from the English word " Zero " and the Sanskrit Word " Rodha " Which Means Zero Barriers For Traders and investors.
Zerodha Founders and Its Team
Nithin is the founder and CEO of Zerodha. Nikhil is the younger one of the brothers and is a brilliant trader. At Zerodha, he manages everything related to the trading system. As of today, Zerodha has a team of over 1250+ employees.
During FY22, the promoters of Zerodha Nikhil Kamath, Nithin Kamath, and Nithin Kamath's wife Seema Patil took 100 crores as their salary each.
Products Offered By Zerodha:
Kite: Trading Platform.
Console: Account Management
Coin: Free Mutual Funds
Kite Connect API: For Developers
Varsity: Financial Education
Sentinel: Market Alert Tool Based On Cloud
Quicko: Tax Filling System For Zerodha Traders
Kill Switch: Risk Management for retail traders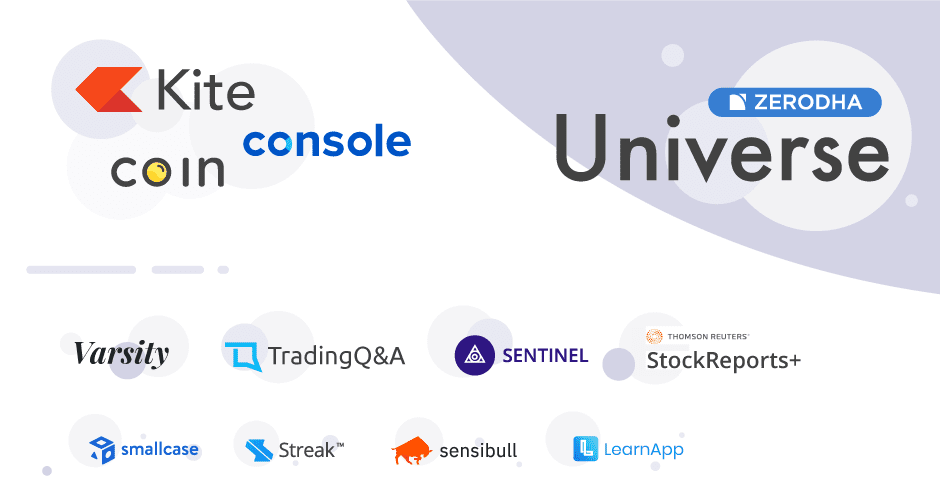 Difference Between Discount and Full-Service Brokerage
A full-service brokerage firm is a traditional broker that provides research and advisory services to its clients. This includes giving buy or sell calls, as well as research reports and other investment advice. Full-service brokers typically charge higher commissions than discount brokers, but they offer a wider range of services.
A discount brokerage firm, on the other hand, offers a platform for buying and selling shares but does not provide research or advisory services. Discount brokers typically charge lower commissions than full-service brokers, but they offer a more limited range of services.
How Does Zerodha Make Money?
Zerodha is a discount brokerage firm that charges a low commission on transactions. This commission is typically a flat fee per trade or a percentage of the value of the trade. Zerodha also earns revenue from interest on the cash balances in its customers' accounts.
Which Type of Brokerage Firm is Right for You?
The type of brokerage firm that is right for you depends on your individual needs and preferences. If you are looking for a broker that will provide you with research and advisory services, then a full-service broker may be a good option for you. However, if you are comfortable doing your research and making your own investment decisions, then a discount broker may be a better option.
Here is a table summarizing the key differences between discount and full-service brokerage firms:
| Feature | Discount Brokerage | Full-Service Brokerage |
| --- | --- | --- |
| Commissions | Low | High |
| Research and Advisory Services | None | Extensive |
| Range of Services | Limited | Wide |
| Fees | Typically a flat fee per trade or a percentage of the value of the trade | Typically a percentage of the value of the trade, as well as account maintenance fees and other charges |
| Best for | Investors who are comfortable doing their research and making their own investment decisions | Investors who want a broker to provide them with research and advisory services |
| Business Model | Total Volume | Brokerage Fee | Total Amount Earned ( Rs ) |
| --- | --- | --- | --- |
| Commonly Used | 1,000 | 50 | 50,000 |
| Used By Zerodha | 5,000 | 20 | 1,00,000 |
Zerodha Business Model
Zerodha Business Model works on the " Low margin and high Volume Model ", as mentioned above with an example.

Zerodha charges a minimal amount for transactions held by traders and investors, which directly helps Zerodha and other discount brokerages to get very high volumes.

The collection of small amounts from a large number of clients leads them to get good revenue.

Also, the operational costs are a little lower compared to traditional brokers in the market. Its online structure enables it to maintain low operating prices.

Their Model has gained huge success and traction from consumers, which made them a leading Brokerage in India by Defeating its Rivals HDFC Securities, Kotak, ICICI Etc.
" Low Margin and High Volume Model "
Zerodha Revenue and Profit:
| Financial Year | Revenue (in INR crores) | Profit (in INR crores) |
| --- | --- | --- |
| 2017-2018 | 450 | 250 |
| 2018-2019 | 850 | 350 |
| 2019-2020 | 938.4 | 442.36 |
| 2020-2021 | 2,759 | 1,122 |
| 2021-2022 | 4,300 | 1,800 |
As you can see, Zerodha has been growing rapidly in recent years. In the financial year 2021-2022, it reported a revenue of Rs 4,300 crores and a profit of Rs 1,800 crores. This represents a growth of over 60% in revenue and over 100% in profit from the previous year.
Zerodha's growth is being driven by several factors, including the increasing popularity of online trading, the company's low-cost brokerage model, and its strong brand reputation. As a result, Zerodha is well-positioned to continue its growth in the years to come.
Zerodha Valuation: 
Zerodha is a bootstrapped startup that has entered the $2 billion club without raising money from investors. This is a remarkable achievement, and it is a testament to the company's strong business model and the hard work of its founders, Nithin and Nikhil Kamath.
Zerodha's business model is based on low-cost brokerage. The company charges a flat fee of Rs 20 per trade, which is significantly lower than the fees charged by traditional brokers. This low-cost model has made it possible for Zerodha to attract a large number of customers, and it has been a key factor in the company's success.
In 2020, Zerodha launched an ESOP buyback program. The program was worth Rs 60 crore, and it valued the company at $1 billion. In 2023, Zerodha announced that it would be launching another ESOP buyback program. This program is worth Rs200 crores, and it values the company at $2 billion.
The success of Zerodha is a testament to the power of entrepreneurship. Nithin and Nikhil Kamath are two young entrepreneurs who had a vision for a better way to trade stocks. They took a risk and started their own company, and they have been rewarded for their hard work and dedication.
Zerodha is an inspiration to other entrepreneurs. It shows that it is possible to build a successful business without raising money from investors. If you have a great idea, don't be afraid to take the plunge and start your own company. You could be the next Zerodha.
In addition to crediting their business model and hard work, the Kamath brothers also thanked Robinhood for helping to popularize the idea of low-cost brokerage. Robinhood is a US-based online brokerage firm that offers commission-free trading. The company has been very successful, and it has helped to change the way people think about investing.
The success of Zerodha and Robinhood is a sign of the changing times. Investors are increasingly looking for low-cost ways to trade stocks. This trend is likely to continue in the years to come, and it will create opportunities for new and innovative companies like Zerodha.
Zerodha Analytics
Active Users: Zerodha has over 10 million active users, which is 16 times higher than in 2016.
Market Share: Zerodha is the largest retail brokerage firm in India, with a market share of over 25%.
Trade Volume: Zerodha conducts over 2-3 million trades every day.
Revenue: Zerodha generated over Rs 4,300 crores in revenue in FY2022.
Profit: Zerodha generated over Rs 1,800 crores in profit in FY2022.
Competition and Challenges Faced by Discount Brokers
Competition from Full-Service Brokers: Discount brokers face competition from full-service brokers, which offer a wider range of services, such as research and advisory services.
Tech Glitches: Discount brokers are also susceptible to tech glitches, which can lead to customer dissatisfaction.
Customer Care Support: Discount brokers' customer care support is often not as efficient as that of full-service brokers.
Is Zerodha Safe To Use For Long-Term Investment
Yes, Zerodha is a safe and reliable brokerage firm. It is a SEBI-registered stockbroker and a member of the NSE and BSE. Zerodha has a strong track record of compliance and has never been involved in any major regulatory violations.
In addition, Zerodha is a debt-free company with a strong balance sheet. This means that it is unlikely to go bankrupt and your investments are safe.
Finally, Zerodha offers a variety of features that make it a good choice for long-term investors. These features include:
Low-cost brokerage: Zerodha charges a flat fee of ₹20 per trade, which is significantly lower than the fees charged by traditional brokers.
A variety of investment products: Zerodha offers a wide variety of investment products, including stocks, mutual funds, and derivatives.
A user-friendly platform: Zerodha's trading platform is easy to use and navigate.
A variety of educational resources: Zerodha offers a variety of educational resources to help investors learn about the stock market.
Overall, Zerodha is a safe and reliable brokerage firm that is a good choice for long-term investors.
SWOT Analysis of Zerodha
Strength
Amazing and Interactive User experience

A large number of a younger audience
Established Brand
A large number of active customers
Weaknesses
lack of marketing strategy
Frequent technical glitches
Inefficient customer care support
Opportunities
Entering other Investments businesses like AMC, Mutual funds, etc
improving customer care support
by providing full trading services like HDFC, ICICI, Etc.
Threats
Heavy weighs competitors like ICICI, HDFC, Kotak, Groww, Angel Broking, and Upstox.
Now comers like Paytm money, Groww, Etc.
Zerodha STP & USP
Segment: People looking to invest and trade in the stock market
Target Group: people looking for a seamless platform to invest their money
Positioning: India's largest discount broking company.
Zerodha USP
The USP of Zerodha is to provide a seamless user experience platform to invest and manage their wealth.
Zerodha Competitors
Some of the main competitors of Zerodha include:
HDFC Securities
Kotak Securities
ICICI Securities
Upstox
Groww
Angel Broking
Paytm Money
Zerodha's Future Goals:
To add 5-10 million new investors to the Indian stock market with the aid of the platform.
To become the leading investment platform in India.
To provide a seamless and user-friendly experience for its customers.
To offer a wide range of investment products and services.
To provide excellent customer support.
How to Open a Zerodha Trading Account? A Step-By-Step Guide
Here are the steps on how to open a Zerodha trading account:
Go to the Zerodha website and click on the "Open an Account" button.
Enter your name, email address, and mobile number.
Click on the "Submit" button.
You will receive an OTP on your mobile number. Enter the OTP and click on the "Verify" button.
You will be taken to a page where you need to provide your PAN card details, Aadhaar card details, and bank account details.
Once you have provided all the required details, click on the "Submit" button.
Your account will be created and you will receive an email confirmation.
Conclusion
Zerodha is a leading online brokerage firm in India. It offers a variety of investment products and services to its customers.  Zerodha's Business Model is known for its low-cost brokerage and its user-friendly platform. The company has a large customer base and it is growing rapidly.