Zerodha is a bootstrapped Bengaluru-based online discount brokerage firm founded in 2010 by two brothers Nithin and Nikhil Kamath. It is India's first stock brokerage firm to introduce a discount brokerage option for traders and investors.
Now Zerodha is India's largest brokerage firm with 5+ million clients and It contributes over 15% off all retail orders volumes in India daily by investing and trading In F&O, Stocks, IPOs, Commodities Etc. It is also Called India's Robinhood. Let's see some fundamental details about Zerodha before moving on to Zerodha Business Model, Zerodha Revenue, and So On…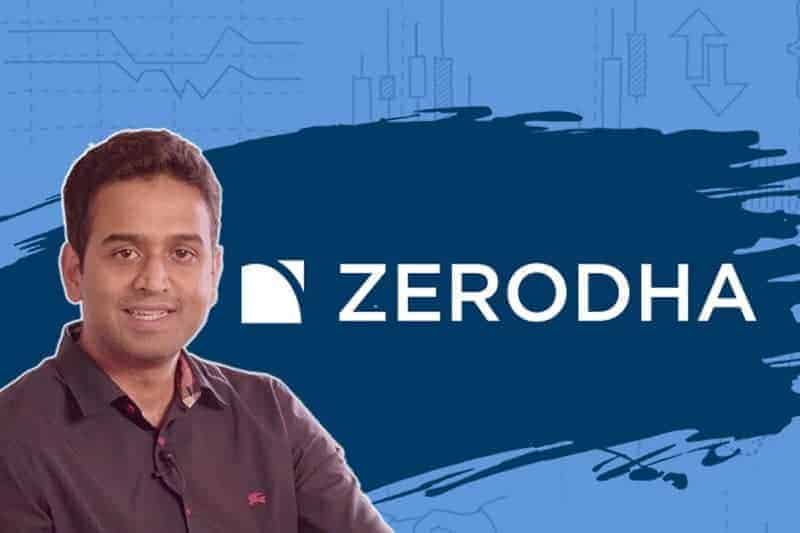 How Nithin and Nikhil Kamath Started Zerodha?
Nithin Kamath started his trading journey when he was just Around 18 Years old. Later, he joined a call center so that he can work at night and trade during the daytime. He quitted his job and started working as a sub-broker in reliance money later he felt that retail investor needs more than this that where his journey starts Zerodha which is a discount brokerage first in India. he along with 6 others started the Business and now they have over 1250 employees.
What is Zerodha and Its Meaning?
Zerodha Is a Financial Services Company Providing Brokerage Facilities, Trading platforms, Mutual Funds, and Commodity Trading At Lower Rates.
Meaning Of the Word " Zerodha "
Zerodha's name is derived from the English word " Zero " and the Sanskrit Word " Rodha " Which Means Zero Barriers For Traders and investors.
Zerodha Founders and Its Team
Nithin is the founder and CEO of Zerodha. Nikhil is the younger one amongst the brothers and is a brilliant trader. At Zerodha, he manages everything related to the trading system. As of today, Zerodha has a team of over 1250+ employees.
During FY21 the promoters of Zerodha Nikhil Kamath, Nithin Kamath, and Nithin Kamath's wife Seema Patil took 100 crores as their salary each.
Products Offered By Zerodha:
Kite: Trading Platform.
Console: Account Management
Coin: Free Mutual Funds
Kite Connect API: For Developers
Varsity: Financial Education
Sentinel: Market Alert Tool Based On Cloud
Quicko: Tax Filling System For Zerodha Traders
Kill Switch: Risk Management for retail traders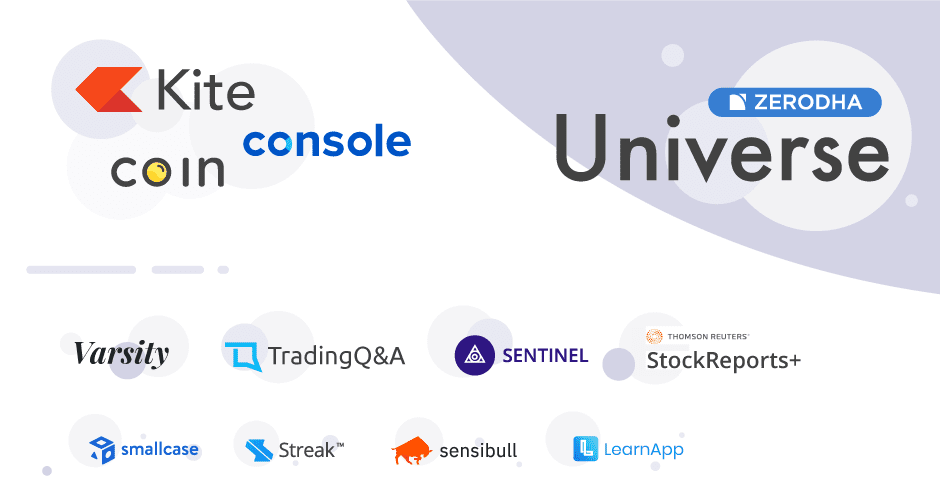 Difference Between Discount and Full-Service Brokerage 
Full-Service Brokerage Firms Such As HDFC Securities, Kotak Securities, Motilal Oswal, etc are traditional brokers who provide research and advisory facilities to their clients, which means Full-Service brokers give buy or sell calls for their clients. apart from providing advisory facilities and All, Full-Service brokers have the advantage of strong branding and credibility. while discount brokerage firms offer just a platform to buy and sell the shares.
How Does Zerodha Make Money
Zerodha Business Model works on the concept of discount broking which means It charges a low commission on transactions which ultimately attracts the traders and investors especially the beginners to use this platform. undoubtedly this is the main reason, because of which it has a client base of more than 5+ million in just 10 years. making it the largest stockbroker In terms of clients.
| Business Model | Total Volume | Brokerage Fee | Total Amount Earned ( Rs ) |
| --- | --- | --- | --- |
| Commonly Used | 1,000 | 50 | 50,000 |
| Used By Zerodha | 5,000 | 20 | 1,00,000 |
Zerodha Business Model
Zerodha Business Model works on the " Low margin and high Volume Model " as already mentioned above with an example.
Zerodha charges a minimal amount for transactions held by traders and investors which directly helps Zerodha and other discounts brokerages to get very high volumes.
The collection of small amounts from a large number of clients leads them to get good revenue.
Also, the operational costs are a little low when compared to traditional brokers in the market. Its online structure enables it to maintain low operational costs.
Their Model has gained huge success and traction from consumers which made them a leading Brokerage in India by Defeating its Rivals HDFC Securities, Kotak, ICICI Etc.
" Low Margin and High Volume Model "
Zerodha Revenue and Profit:
Zerodha Business Revenue 2017-18 (FY18 ): In The Financial Year 2017-18, It Earned More Than INR 450 Crores. which 100% growth from the last financial year
Apart from the revenue, Zerodha made a profit of Rs 250 Crores more than the last year.
Zerodha Business Revenue FY2018-19 ( FY19 ): It earned more than Rs 850 Crores. which is 70% growth from the Last Financial Year
Apart from The Revenue, Zerodha Made a Profit of Rs 350 Crores more than 40% growth from the last financial year.
Zerodha Business Revenue FY2019-20 ( FY20 ): It Earned More Than INR 1,094 Crores Which Is More than 30% growth from the Last financial year.
Apart from The Revenue, Zerodha made a profit of Rs 442.36 Crores more than last year.
Zerodha Business Revenue FY2020-21 ( FY21 ): It Earned more than Rs 1,500 Crores which is more than 80% growth from the last financial year.
Apart from the revenue, Zerodha Made a Profit of 1000+ Crores which is double the profit last year.
Note: Zerodha's daily Turnover is over Rs 2,000 crore As per NSE reports.
Zerodha Valuation: 
They have entered a $2 Billion club without rising money From Investors which is why Zerodha is Called Bootstrapped Startup rather than a Funded startup.
ESOP scheme will be for around Rs 200 crore, valuing the firm at $2 billion. This is double the valuation at which Zerodha's ESOP program of 2020 where it initiated a buyback of Rs 60 crore at around $1 billion.
Founders Nithin and Nikhil Kamath credit the company's Success To Its business model and Thanks To Robinhood.
Zerodha Analytics:
It has gained more active users which Is 16 times higher than In 2016. according to the national stock exchange, it is among India's 10 Largest Stock Brokers.
Dethroned the market leader- ICICI Securities with nearly 8.47 lakh active clients.
Conducts 2-3 million trades every day.
Zerodha is the largest retail brokerage firm in the world.
It adds 50,000 to 75,000 accounts every month.
Competition and Challenges faced by Discount Brokers:
Along with the competition from other Discount Brokers like Upstox, Groww, 5Paisa, Paytm money its faces huge competition From Full-Service Brokers Such as HDFC Securities, Kotak Securities, Motilal Oswal, etc.
As per the latest report, HDFC Securities is going to start Its Own Discount Brokerage firm soon.
Certain challenges faced by Zerodha:
Tech Glitches Happens Frequently Because of Heavy Trading Which Has Led To a Decrease in Customer Satisfaction.
Customer Care Support is Inefficient as Compared to Other top brokers.
Daily reports, Quarterly result analysis, news alerts, etc. are Not Provided Like some of The Other Top Brokers.
Is Zerodha Safe To Use For Long Term Investment
Yes, Zerodha is as safe as any stockbroker in India. Zerodha is a genuine and trustworthy stockbroker. They are one of the lowest risk brokers for the following reasons:
Unlike other big brokers, Zerodha only offers brokerage services. Therefore, they cannot be affected by losses in other businesses.
Not a single major breach has been reported in the last ten years.
Shares and Mutual Funds are maintained in the Demat account with CDSL.
The company follows open and transparent business practices.
Low ratio of customers to complaints.
No Margin Funding facility.
No Proprietary Trading.
When opening an account with a broker, a customer usually worries about the safety of his funds and shares held with the broker. However, Zerodha is safe in terms of all the above aspects.
Zerodha is a SEBI registered stockbroker and a member of the NSE and BSE. The broker has all the genuine certifications to carry on the brokerage business. The transactions of the broker are regularly audited by SEBI and the stock exchanges and in case of any misconduct, it is severely penalized. Moreover, the broker does not engage in proprietary trading. So, there is no risk of customer funds being used for other purposes. Since Zerodha is a member of the CDSL custodian, the security of the Demat account is taken care of by CDSL and the broker acts only as an intermediary for the transfer of securities.
SWOT Analysis Of Zerodha
The SWOT Analysis of Zerodha focuses on the strengths, weaknesses, opportunities, and threats of the company. Strengths and weaknesses are the internal factors and opportunities and threats are the external factors that affect Zerodha. Let look at The Overview of the company before moving into the SWOT Analysis Of Zerodha.
S Stands For Strengths
As an essential component of SWOT, a company's strength is its asset to plan its expansion. Zerodha has several strengths that made them the largest brokerage in India.
Amazing and Interactive User experience.
A large number of a younger audience.
Established Brand.
A large number of active customers.
W Stands For Weakness 
Everyone has positive and negative sides; so does Zerodha his weaknesses. Even Though Zerodha is the market leader of stockbroking, many weaknesses can become a nightmare for Zerodha's growth.
lack of marketing strategy.
Frequent technical glitches.
Inefficient customer care support
O Stands For Opportunities
Entering other Investments businesses like AMC, Mutual funds, etc
improving customer care support
by providing full trading services like HDFC, ICICI, Etc.
T Stands For Threats
heavy weigh competitors like ICICI, HDFC, Kotak, Groww, Angel Broking, and Upstox.
now comers like Paytm money, Groww, Etc.
Zerodha STP & USP
Segment: People looking to invest and trade in the stock market
Target Group: people looking for a seamless platform invest their money
Positioning: India's largest discount broking company.
Zerodha USP
The USP of Zerodha is to provide a seamless user experience platform to invest and manage their wealth
Also, Read To Know Who Are The Zerodha Competitors
Zerodha Future Goals
Upcoming goals for Zerodha is the aim to add 5-10 million new investors to the Indian stock market with the aid of the platform.
How To Open a Zerodha Trading Account? A Step By Step Guide
Open " Zerodha.com " and click the sign-up button
Enter Your Mobile Number and Verify It Using OTP Sent by Zerodha.
Then You need to enter your Full Name As Per your Pan Card.
After Submitting your details Zerodha Will Ask you for a Pan Card Copy, Aadhar Card Copy, and up to 6 months Of Bank Statements. Note: Bank Account Should be Opened your Credentials.
After All The Stuff, Zerodha takes 2-3 days to verify your Identity.
Then You Can Enjoy trading on their seamless platform.