If there is one common memory every Indian kid gets to cherish and grow up with, it is the one where we spend days trying to learn how to ride a bicycle with our parents steadying us throughout the journey. It symbolized growth, independence when we can cycle without any support and a good laugh with our parents who become busy with time.
This is why choosing a bicycle that becomes a part of any Indian household for years, takes credit for a child's fitness and acts as a groundwork for strength, is an extremely important task.
Let us take a look at the list of the Best Cycle Brands In India in 2022 in a simplified way.
10 Best Cycle Brands In India
1. Hero Cycles
Corporate Office: Ludhiana, Punjab
Founded: 1956
Business: Cycle Manufacturer
Website: www.herocycles.com
Hero Cycles was founded in 1956 in Ludhiana in Punjab and manufactured bicycle components. Today, Hero Cycles is one of the largest bicycle manufacturers in the world, producing 18390 bicycles per day. Hero Cycles Ltd is part of the Hero Motors Company. In 2016, Hero Cycles exported to over 70 countries worldwide. The company is ISO9001 and ISO14001 certified.
The company operates partly as a white-label manufacturer for various brands and also sells motorcycles under the Hero and UT (formerly Urbantrail) brands. Hero Cycles bought the Firefox bike brand in 2015.
In 2015, Hero Cycles Lt. acquired a majority stake in Avocet Sports Ltd, a UK retailer of bicycles, e-bikes, bike parts and accessories. The Insync Bikes brand was launched by Avocet in November 2018. In 2019, Hero bought a majority stake in German e-bike manufacturer HNF-Nicolai. In 2016, Hero bought 60% of Sri Lankan bicycle manufacturer BSH Ventures.
In 1986, Hero Cycles was named the largest bicycle manufacturer in the world by the Guinness Book of World Records for being the largest single producer of bicycles.
According to the reports, Hero Cycles is the 1st best cycle brands in India.
2. Atlas Cycle
Corporate Office: Sonepat, India
Founded: 1951

Business: Bicycle producer
Website: www.atlascycles.co.in

Atlas Cycles (Haryana) Ltd, formerly known as Atlas Cycle Industries (ACIL), started manufacturing bicycle saddles in 1951 and produced its first bicycle in 1952. From the humble beginnings of 120 bicycles per day, the company has grown to become India's second-largest bicycle manufacturer.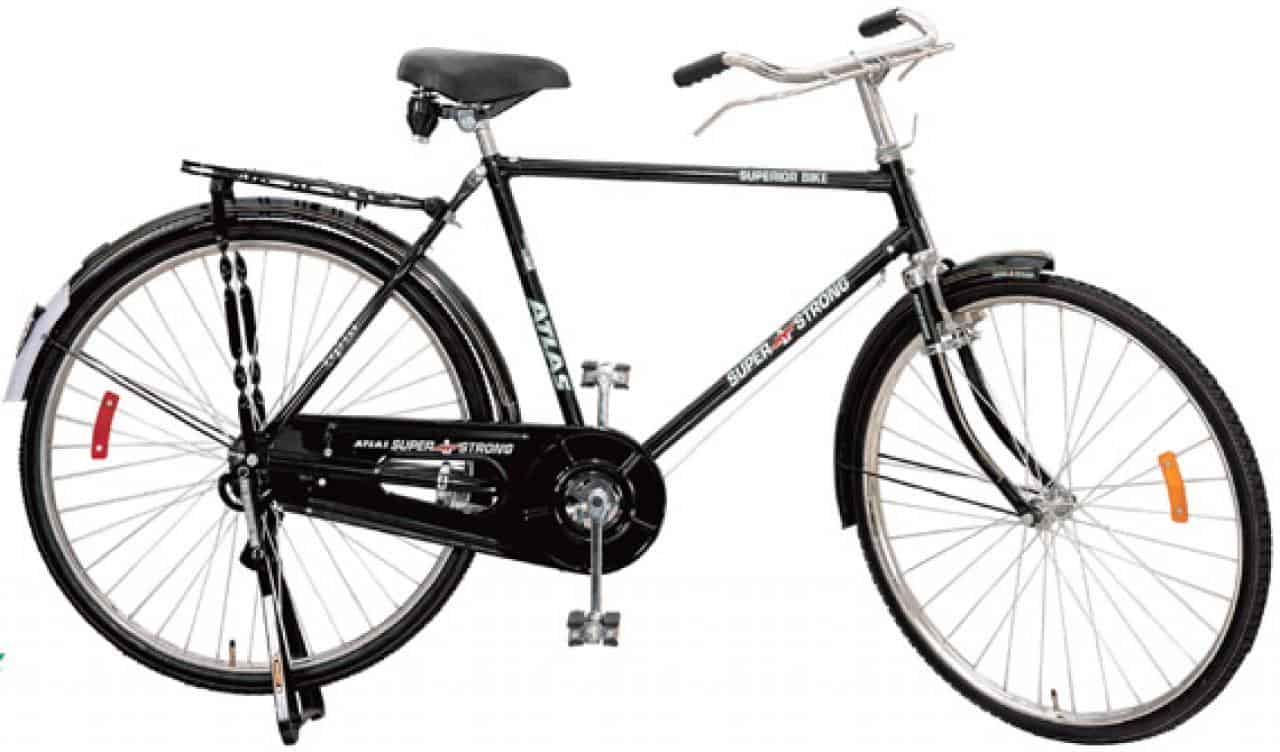 The company has plants in Sonepat Sahibabad Rasoi and Gurgaon, all in Haryana. The total production capacity is an impressive 3.1 million bicycles per year. The company has become the largest exporter of bicycles from India. During 1994-95, new export markets like Myanmar and South Africa were explored. Apart from tapping the overseas fitness equipment market, the company also exports bicycles and mopeds with components. The ISO -9002 certification is expected to boost exports.
Atlas offers a wide selection of children's bicycles. One of the most popular bikes for teens is the Atlas Smash lbc 20T. the Atlas Smash lbc 20T has a backrest. It also has trainer wheels that make it easy for the child to learn athletics. This bike has calliper brakes and a steel frame. Atlas is one of the leading bike brands in India. Atlas bikes are durable as the company does not compromise on the quality of the bikes it manufactures. Just consider your budget and the options you want and choose the bike accordingly.
According to the reports, Atlas Cycle is the 2nd best cycle brands in India.
3. Avon Cycle
Corporate Office: Ludhiana, Punjab
Founded: 1951
Business: cycle manufacturing
Website: www.avoncycles.com
Avon Cycle Limited, based in Ludhiana|Ludhiana Punjab, is an Indian company that manufactures bicycles and E-bikes. Mr Onkar Singh Pahwa is the Chairman & Managing Director of Avon Cycles.
Avon Cycles is one of India's leading bicycle companies, manufacturing bicycles, electric scooters and e-rickshaws. Avon also diversified into fitness equipment as Avon Fitness Machines Pvt. Ltd.
The authorised capital of the company is Rs 100.0 lakhs and has 89.6442 per cent paid-up capital i.e. Rs 89.64 lakhs. Avon Cycles LTD has been engaged in manufacturing machinery and equipment for the last 70 years and is currently active. The company designs and distributes motorcycles, bicycles, fitness equipment and electric bicycles (e-bikes). Avon Cycles Ltd caters to customers in India.
In 2018, the company invested Rs 12.5 crore to expand its manufacturing capacity by nearly 50 per cent. The current board members & directors are Onkar Singh Pahwa, Sarabjit Kaur Pahwa, Rishi Pahwa, Mandeep Pahwa, Nem Chand Jain, Anil Arora, and Jugdiep Singh
According to the reports, Avon Cycles is the 3rd best cycle brands in India.
4. Hercules
Corporate Office: Chennai, Tamilnadu
Founded: 1949
Business: Bicycle & Firearms
Website: www.bsahercules.com
The Birmingham small arms company is a leading player in bike, bicycles, firearms and steel casting manufacturing. The company was founded long back in 1861 and started India operation in the year 1949; The cycle business in India is managed and distributed by TI cycles and Murugappa group. Its major bicycle manufacturing includes BSA and Hercules brands.
Hercules is known for making durable and safe bicycles. You need a good selection of high-quality bicycles. If you are looking for a bike for everyday use, you will find some special models at Hercules Cycles.
But the selection of bikes from Hercules is not just limited to bikes for traditional use. If you are looking for sport and performance bikes, Hercules is a name you should just think about. They offer a range of the most basic sports bikes.
The Ryder Contour twenty-one speed bicycle is a designer hardtail frame made of aluminium. It is equipped with Shimano gears and V-brakes. This is often one of Hercules' simplest marketing bikes overall and this gives an overview of the standard and options of this bike. If you just want a simple, high quality and sturdy bike that will last long and support you in rough terrains, then you should think about Hercules whole which offers some of the simplest performance bikes. The brand is on the list of top bicycle brands in India.
According to the reports, Hercules is the 4th best cycle brands in India.
5. La-sovereign
Corporate Office: Ludhiana, Punjab
Founded: 1970 – 1980 Approx.
Business: Bicycle manufacturing
Website:www.la-sovereign.com
It is a company mainly based in Thailand and linked to an Indian company. The Indian counterpart is called Sovereign Company and is based in Ludhiana. This company has been manufacturing and distributing bicycles for four decades.
Sovereign has several bike models for young kids and hence for the younger generation. Their kid's bikes, MTB bikes and BMX bikes are the talk of the town. Their most preferred model is the La Sovereign City Bicycle. This single-speed bicycle model is best for those who want to get around the city by bike.
One of the most important options of the Los Angeles Sovereign city Bicycle is the sturdy steel frame of the bicycle. One of the most innovative options of this bike is that it does not have traditional V or calliper brakes. This model is equipped with disk brakes which is one of the special options.
This is a whole that you will simply trust. You need many different models, especially for the youngest ones. So, if you want to choose a bike for your child, you should consider this model.
According to the reports, La-Sovereign Cycles is the 5th best cycle brands in India.
6. BSA Ladybird
Corporate Office: ( Hercules )
Founded: 1949
Business: Bikes & cycles
website: http://bsaladybird.in
If you are looking for a bike for your girlfriend, then you can not miss the BSA Ladybug, which is one of the most important style brands among the ladies of the Asian country. The BSA Ladybug can be a part of the BSA Store.

The bikes of this brand are tailor-made for the ladies in India. They are stylish and classy and are designed in such a way that the women can enjoy full comfort while riding the bike. The stylish BSA Ladybug bikes also allow the women to make a fashion statement.
There are a variety of fashionable models available. One of the most stylish models is the BSA Ladybird Beetle Breeze, which is aimed at women aged eight to eleven. This model has a lightweight steel frame that is easy for young women to handle. The saddle is wide padded and the bike has brake callipers. There is a basket at the front and the rim and therefore the chaincase is nicely decorated.
According to the reports, BSA Ladybird Cycles is the 6th best cycle brands in India.
7. Firefox
Corporate Office: Waterloo, USA & Uttar Pradesh
Founded: 2005
Business: Off and On road Cycle
Website: www.firefoxbikes.com
Firefox's product offering includes mountain, road, BMX, all train and Kids bikes. It started India operation in the year 2005 and leading global brand in cycle manufacturing and teamed up with Trek Bicycle Corporation, the USA in 2006.
This brand entered the Indian market in 2005 and has become one of the leading fashion brands in India. If you look at a list of the biggest bike wholesalers in Asia, you will find this brand in it. Firefox is known for its premium bicycles. You will find these bikes in most of the stores across India. You need bikes for all age groups, men and women. You need models that are best for use in the city. They even have models that are customised to suit the needs of the users.
One of the hottest models is the Firefox Flip Flop Hybrid. It is best suited for the city. This model consists of a steel frame and alloy rims. The alloy brake levers and rim brakes are linked together. This bike is durable and looks good to boot. You have the choice to add additional fashion to the Flip Flop Hybrid model. You have the choice to equip the current bike with solid-state diode lights front and rear and bottle cages.
According to the reports, Firefox is the 7th best cycle brands in India.
8. Montra
Corporate Office: Chennai, Tamilnadu
Founded: 1949

Business: Bi-cycle
Website: www.tiindia.com
Monta cycles is a division of TI cycles of India (Tube investment) which was established in the year 1949. The TI cycles are also manufacturing various cycle brands such as Hercules, Philips and BSA. Montra is one of the popular bicycle brands in India and its product offering is blues, country Titanium, Jazz A, Techno etc.
This is one of the leading brands in the Asian country and it is known for its excellent selection of hybrid bikes. The whole thing is among the TI bicycles of the Asian countries. They need models that are best for the city. They even have mountain bikes. Montra also has RTB models and their bikes are specially designed for roads and mountains.
TI Cycles had launched the 1st metallic element bike in the country. Montra was the first company in India to offer carbon frame bikes. This company offers several models with a warranty. There are even excellent accessories that you can use to upgrade your bike.
The top mountain bikes from Montra are Montra Madrock, Montra Rock and Montra Beat. With a range of mountain bike models from Montra, you will come across many variations. You need models with straight handlebars and upright riding positions. A UN agency that loves mountain bikes and wants to buy one should consider the Montra as a whole.
According to the reports, Montra Cycles is the 8th best cycle brands in India.
9. Mach City
Corporate Office: Chennai, India
Founded: 1898
Business: Bicycle, BMX
Website: www.machcity.com
Mach Town bikes were launched in the Indian market in 2015. The design of these bikes is so simple that people can happily start exercising again. The target market for this bike is the urban audience.
Mach Town offers bikes for the city and even hybrid models. One of the most popular models is the Bike W Single Speed. This model has a lightweight steel frame. This model has sturdy nylon tires. As a rule, this is a requirement for cities where road conditions are often unhealthy.
The seat of this model is padded with foam. It is a bird-like handlebar, so you can ride the bike in an extremely comfortable position. The handlebars have grips made of thermoplastic rubber, so you can get a good grip on the handlebars. It is a sloping crossbar. Therefore, girls can sit on the bike with ease. The company is the talk of the Indian market for its high-quality bikes.
According to the reports, Mach City Cycles is the 9th best cycle brands in India.
10. Road Master
Corporate Office: Illinois, USA
Founded:1936

Business: Bikes & cycles
Website: https://www.indianmotorcycle.in/roadmaster/

Trek is a globally recognised bike and bicycle brand that started operation in 1976. The company's product offering includes high-tech bicycles, mountain bikes, gear bicycles and much more. It was founded in the year 1976 and headquartered in Waterloo in the USA. This company is widespread across the nation, with more than 156 stores.
This leading bike brand of India has over sixty bike models. They offer bike models for all age groups and are also known for their sports bikes. The brand is present all over the country and has 156 stores across India. It is one of the best and fastest-growing bike brands in the country.
Road Master is known for its reasonable bikes and is one of the most reliable brands in Asia that offer a warranty on its bikes. Some of the simplest options of bikes from this company include a nice style, strength and the brakes of most models are reliable.
According to the reports, Roadmaster is the 10th best cycle brands in India.
(:-:)
| Rank | Company Name | Founded Year |
| --- | --- | --- |
| 1 | Hero Cycles | 1956 |
| 2 | Atlas Cycles | 1951 |
| 3 | Avon Cycle | 1951 |
| 4 | Hercules Cyle | 1949 |
| 5 | La-Sovereign | 1970 - 1980 |
| 6 | BSA Ladybird | 1949 |
| 7 | FireFox | 2005 |
| 8 | Montra | 1949 |
| 9 | Machcity | 1898 |
| 10 | Roadmaster | 1936 |
Conclusion
This is the end of my post on the best bike brands in India. I am sure I have missed at least a few good brands. If you think of any, please post them in the comments below. I will surely include them in my further revisions of this blog post.
Also, read our new article on SWOT Analysis Of LIC in a Simplified Way
Reference: Wikipedia and Other sites.
FAQs
How To Get Distribution of Above Listed Best Cycle Brands In India?
Well, you can get distribution rights of the above brands by contacting them directly or by visiting their websites.
Note: Contact details of the company will be listed in the Company's website
Best Cycle Brands in India
Hero Cycles
Atlas Cycles
Avon Cycles
Hercules
LA-Sovereign
BSA Ladybird
Firefox
Montra
Mach city
Roadmaster
What are the Health Benefits of Cycling?
Contribute to the Strengthening of Your Legs
A Healthy Heart
Raise Your Spirits
Decrease anxiety
Extend Yourself
Sleep More Soundly
Combat Cancer
Improve Your Cognitive Ability
Control Your Digestion
Deep Breath