Nestle is one of the strongest and most trusted FMCG brands in the world. The company was founded in 1866 and is headquartered in Switzerland.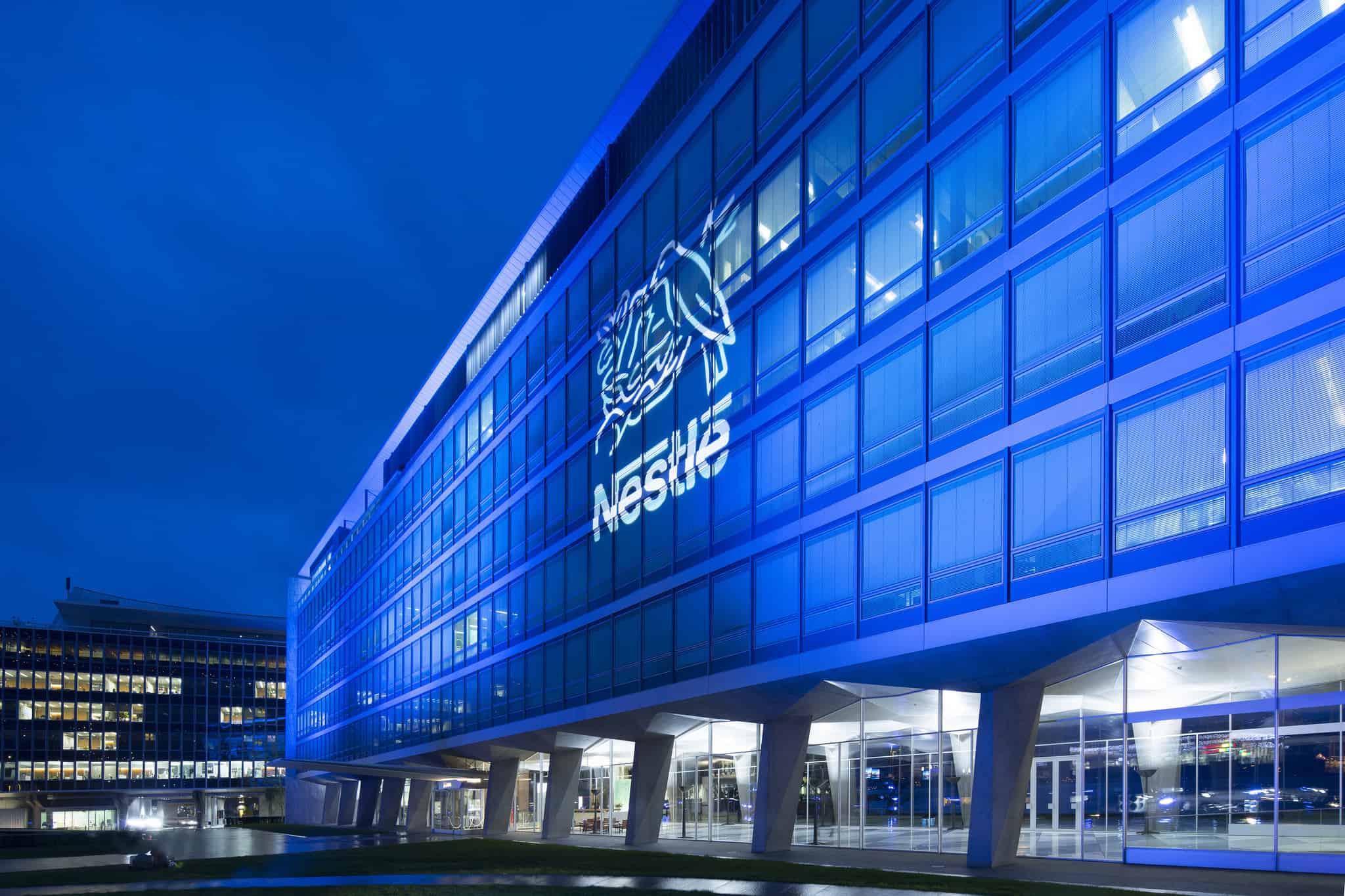 Let us now give an overview of Nestle and then move on to the SWOT Analysis of Nestle.
Overview of Nestle
Nestle is a Swiss MNC FMCG company. It is one of the largest food companies in the world in terms of sales and other metrics. Nestle ranked 64th on the Fortune Global 500 in 2017 and 33rd on Forbes Global 2000 in 2016.
Nestle's products include baby food and medical products, bottled water, cereals, coffee, tea, dairy products, ice cream, frozen food, pet food, snacks, and so on. Nestle has over 29 brands such as Kit Kat, Smarties, and Maggi with annual sales of over $1.1 billion.
Nestle has 447 manufacturing plants in 189 countries with more than 3,39,000 employees. Nestle is also the largest shareholder of L'Oreal, one of the largest fashion brands in the world.
The slogan of Nestle is Good Food, Good Life
Did You Know?
Nestle earns over $1.1 billion in revenue every single day
Nestle has over 100s brands under its umbrella which include Maggi, munch, and more.
SWOT Analysis Of Nestle
The SWOT analysis of a company includes its strengths, weaknesses, opportunities, and threats. And in this reading of the SWOT analysis of Nestle, we will examine this beauty and wellness company in terms of its internal and external factors.
S Stands For Strengths
Market Experience: Nestle has more than 140 years of experience in the FMCG industry
Recognized brand name: Nestle is a globally recognized brand. It has earned a respected reputation in the food and beverage industry by providing high-quality products for daily use worldwide.
Highly diversified company: Nestle has a strong market share in both developed and developing countries such as the US, China, India, UK, France, and Brazil. Nestle currently sells its products in 189 countries.
Efficient R&D labs: Nestle has the world's largest FMCG research organization with over 21 R&D laboratory centers. Its R&D capabilities are one of its biggest advantages over its competitors. More than 5000 employees are involved in R&D. In 2017, Nestle spent nearly 1.72 billion Swiss Franc on R&D.
Huge brand and product portfolio:  Nestle owns more than 2000 brands globally and innovated more than 8000 nutrition and health products in 2017, according to Annual Report. It is one of the world's largest companies with a huge brand and product portfolio.
Efficient Distribution System: Nestle has an extensive and diversified distribution system, not only in urban areas but also in rural areas. Nestle has adopted local distribution methods and a decentralized approach to manage its business efficiently in each country. Nestle maintains close relationships with suppliers, retailers, vendors, and distributors.
Huge workforce: Nestle employs 339000 people worldwide who are continuously working to make its products available in every corner of the world.
W Stands For Weaknesses
Food Safety ( Maggi ): In 2017, Nestle failed a lab test in India. This triggered a boycott of Nestle, resulting in the loss of 80% of its market share in India. Nestle claimed that the noodle packs were "without added MSG". However, after testing, 1000 times more lead was found in the products.
Water controversy: Recently Nestle was accused of illegally pumping millions of liters of water into 6 countries where the inhabitants have no drinking water.
None Fixed Price: Nestle sells its food mainly through large retail giants like Walmart, Reliance Retail, Big Bazaar, Spar, Tesco, and Kroger. Any price cut or increase by these retailers can affect Nestlé's sales.
Conflict of interest due to brand structure: Nestlé is organized in a matrix structure. This means that a large number of brands are under the same umbrella group, which makes managing such a large number of individual brands somewhat challenging and often leads to inconsistencies and conflicts of interest.
Legal issues: although Nestle is a global food giant, it has run into many controversies over the years, such as the boycott of Nestle baby food. Child labor at suppliers, price fixing of chocolate, etc., leading to negative word of mouth.
Also, Read the SWOT Analysis of Patanjali, one of the Biggest Competitors of Nestle in India.
O Stands For Opportunities
Genuine Labeling: Nestle has already come under fire for misleading nutritional claims on its labels. So there is an opportunity to improve its practices by providing trustworthy information and accurately labeling its products.
Good breakfast: Nestlé's cereals, oats, and breakfast foods market has seen rapid growth in recent years. Therefore, greater penetration of this market would be extremely lucrative for the company.
Strategic partnerships: Nestle has already entered into partnerships with a number of major companies, such as Coca-Cola, and several others, which open up new opportunities for the company. Nestle is one of the major shareholders of L'Oreal, the largest cosmetics company in the world, and partnering with other food giants will help the company grow further.
Acquisitions: Nestle has a fantastic opportunity to increase the number of small food startups under its popular brand name.
Rural markets: Nestle should focus more on rural markets to significantly increase its market share.
Expand market share in instant products: Nestle should increase its production and innovation of instant products such as instant breakfast, coffee, tea, etc.
T Stands For Threats
The emergence of competition: many consumer goods companies such as Mondelez, Unilever, Parle, Pepsico, Amul, and Britannia offer similar foods and beverages. It is difficult for Nestle to compete in such a situation where substitute products are readily available.
Government regulations: government regulations may affect Nestle's business. Moreover, the rising prices of raw materials are forcing the company to increase the prices of its products. This will lead to a decline in sales as consumers may switch to other brands that are available at lower prices.
Decreasing profits: An increase in the cost of raw materials can lead to a decrease in a company's share of profits.
SWOT Analysis Of Nestle Key Takeaways
The SWOT analysis of Nestle highlights where the brand currently stands and its threats in this era. Following the detailed SWOT analysis of nestle, Here are Few Important Key Points.
one step ahead of its competitors.
Very good distribution chain all the world.
Strong brand name.
Suggestions:
Following the detailed SWOT analysis of Nestle, we have few suggestions from Business Mavericks:
Increased acquisition of start-ups in the food and beverage industry.

Improving online services to create a unique competitive advantage in the FMCG industry.
Using genuine and high-quality raw materials to avoid an outcry from environmental and social activists.
Mediation with media channels to maintain a positive reputation in the market.
Nestle STP & USP
Segment: People looking for Instant FMCG products.
Target Group: Lower, Middle, and upper-middle-class families who prefer instant products.

Positioning: Nestle offers tasty Snacks in the FMCG category.
Nestle USP
Nestle Sells various kinds of FMCG products including instant food products and etc.
Nestle Competitors
Hindustan Unilever Limited ( HUL ) is an Indian consumer goods company headquartered in Mumbai, India. It is a subsidiary of Unilever, a British company. Its products include food, beverages, detergents, personal care products, water purifiers, and other fast-moving consumer goods.HUL was founded in 1931 as Hindustan Vanaspati Manufacturing Co. and was renamed Hindustan Lever Limited after a merger of the two groups in 1956. In June 2007, the company was renamed Hindustan Unilever Limited.
Procter & Gamble Company (P&G) is an American multinational consumer products company headquartered in Cincinnati, Ohio, founded in 1837 by William Procter and James Gamble. P&G specializes in a wide range of health, personal care, and hygiene products. These products are divided into several segments, including Beauty, Grooming, Health Care, Fabric & Home Care, and Baby, Feminine & Family Care. Prior to the sale of Pringles to Kellogg's, the product portfolio also included food, snacks, and beverages. P&G is headquartered in Ohio.
Marico Limited is one of India's leading multinational consumer goods companies offering consumer products and services in the health, beauty, and wellness sectors. Headquartered in Mumbai, Maharashtra, India, Marico has operations in over 25 countries across Asia and Africa. With its portfolio of brands like Parachute, Saffola, Hair & Care, Parachute Advanced, Nihar Naturals, Mediker, and many others, the company touches the lives of one in three Indians. The company owns brands in hair care, skin care, edible oils, health food, men's grooming, and textile care categories. In the financial year 2019-20, the company generated a turnover of Rs 7,315 crores. Marico has 8 factories in India located in Pondicherry, Perundurai, Kanjikode, Jalgaon, Paldhi, Dehradun, Baddi, and Paonta Sahib.
Dabur India Ltd is an Indian multinational consumer products company founded by S. K. Burman and headquartered in Ghaziabad, Uttar Pradesh. The company manufactures Ayurvedic medicines and natural consumer products and is one of the largest fast-moving consumer goods (FMCG) companies in India. Dabur generates about 60% of its revenue from consumer products, 11% from food, and the rest from international business.
Himalaya Herbal Healthcare is an Indian multinational pharmaceutical company founded in 1930 by Mohammed Manal and headquartered in Bengaluru, Karnataka, India. It manufactures health products under the name Himalaya Herbal Healthcare whose products contain Ayurvedic ingredients. The company is spread across locations in India, the United States, Middle East, Asia, Europe, and Oceania, while its products are sold in 106 countries around the world. The company has more than 290 researchers using Ayurvedic herbs and minerals. The company's flagship product is a liver medicine called Liv.52, which was first introduced in 1955. Himalaya Global Holdings Ltd. (HGH), is the parent company of The Himalaya Drug Company worldwide. It is also the global headquarters of all Himalaya subsidiaries.
Thank you for reading, please subscribe to our E-Mail Newsletter ( link below ) to our blog to be notified when we publish a Detailed Analysis of the company.