The SWOT Analysis of Nykaa focuses on the strengths, weaknesses, opportunities, and threats of the company. Strengths and weaknesses are the internal factors and opportunities and threats are the external factors that affect Nykaa.
Let look at The Overview of the company before moving into the SWOT Analysis Of Nykaa.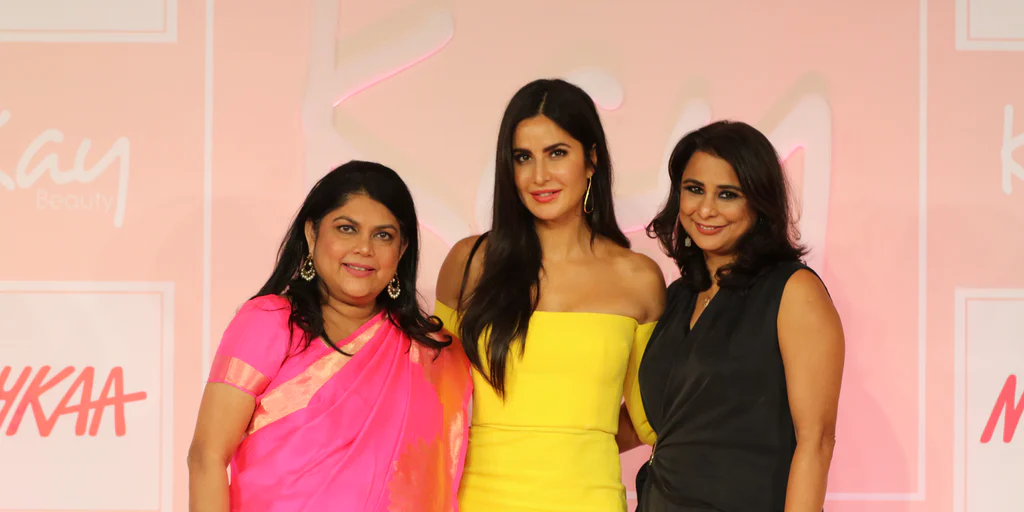 Overview Of Nykaa
With the rise of the e-commerce sector in India, Nykaa has ventured into the world of e-commerce and launched beauty, wellness, beauty appliances, and other products.
Although, it is not an easy task for a new company to compete in the e-commerce market, which is already dominated by market leaders like Amazon, Flip kart, Jiomart, and others. But Nykaa Business Model has helped them to attract as many people as possible as customers.
Nykaa is an Indian e-commerce company founded by Falguni Nayar in 2012 and headquartered in Mumbai. It sells beauty, wellness, and fashion products through websites, mobile apps, and 76 offline stores. It is a unicorn startup and was valued at Rs 8500 Crore ($1.2 billion) in 2020.
It sells made-in-India products internationally. In 2015, the company expanded from an online-only to an omnichannel model and started selling products other than beauty products. In 2020, the company sells more than 2,000 brands and 200,000 products across its platforms.
The company has over 2000+ Employees as of 2021.
Did You Know?
In 2018, it began hosting an online community of beauty and fashion enthusiasts through its Nykaa Network. In 2020, the company launched a web mini-series called The Beauty Bar. Nykaa is also the publisher of Beauty Book, a beauty and fashion magazine.
SWOT Analysis Of Nykaa
S Stands For Strengths
As an essential component of SWOT, a company's strength is its asset to plan its expansion. Nykaa has several strengths that make them one of the largest E-Com companies in the Beauty products sector in India
Innovation: The company is constantly adding innovations to its product range and offerings to capture the attention of customers and meet the dynamic business environment.
Strong Social Media Interaction: Nykaa is able to attract many social media users as potential customers with regular online campaigns, contests, magazines, and web series.
Wide Range of Products: Showcasing a wide range of products in both online and offline stores to prevent customers from migrating away from the brand due to lack of stock.
Geographical Presence: Geographic presence in different regions can be one of the company's greatest strengths. It determines the reach of the company in the target market and ensures easy accessibility.
The location advantage can improve the competitive position of the company in various ways, such as lower costs, better accessibility, or a better brand image.
Strong Financials: A strong financial position and health can allow the company to invest further.
Less Charging Suppliers: Access to suppliers that offer raw materials at a lower cost can improve the overall efficiency of the business.
Quality Range of Products: High product quality increases brand loyalty and improves Nykaa com A Passion for Beauty performance in a competitive market.
Property Rights: A company may own various intellectual property rights that can make the product offering unique and exclusive, making it difficult for competitors to imitate.
W Stands For Weakness 
Everyone has positive and negative sides, so do Nykaa has weaknesses. Though Nykaa is one of the current market leaders in  Beauty product E-Commerce Companies in India, there are many weaknesses that can become a nightmare for Nykaa's growth.
Waste Management: The company has been criticized by environmentalists for its poor waste management and inability to integrate sustainability into its business operations.
R&D: Low spending on research and development activities may weaken the company's performance due to a lack of local/international market knowledge.
Marketing Budget: An inadequate budget for marketing and advertising activities weakens the ability of businesses to expand their customer base and encourage repeat purchases.
Delivery Charges: It offers free delivery for orders above Rs. 700, which excludes some of the aspiring buyers.
Customers Care: They are still not good at handling customer complaints which can affect the growth of their business.
Decision Making: Decision-making at Nykaa com A Passion for Beauty takes too much time, leading to costly delays in bringing new products to market.
Employee Satisfaction: Lack of organizational commitment and high employee turnover can increase hiring costs and decrease organizational productivity.
High work stress and resulting low morale make the workforce less productive.
O Stands For Opportunities 
Population: The exponential growth of the population and especially the existing or potential customer segments is a great growth opportunity for the company.
E-Commerce & Networking: The emergence of e-commerce and social media networking as a trend can be a great opportunity for Nykaa com A Passion for Beauty if it can ensure a strong online presence on various social networks.
Government Incentives: Government-provided subsidies and other measures that make the business environment friendlier are a positive external environmental factor for Nykaa com A Passion for Beauty.
The lifestyle of Customers: Improving customers' lifestyles and standards means more consumption of consumer goods and services and more opportunities to encourage purchases.
Business Model: Nykaa's business model is climbing a new ladder to increase its international reach and boost profits.
Technology: The development of new technologies to support the production and delivery process of products/services can be used to integrate innovation into business operations. Advanced technology integration can reduce costs, improve efficiency, and lead to the rapid adoption of innovative products.
Following Trends: The changing needs, tastes, and preferences of customers can be an opportunity if the company has good market knowledge.
T Stands For Threats 
E-Commerce Regulations: The changing legal framework and the introduction of new, stricter regulations pose a major threat to Nykaa com A Passion for Beauty. They make compliance with legal standards more complex and a challenge for the company. Inability to comply with the changing regulations increases the risk of costly litigation.
Rise in Competitors: The increasing number of direct and/or indirect competitors affects the company's ability to maintain and expand its customer base.
Health Concerns Regarding Chemical Products:  The growing trends towards environmental sustainability pose a great danger if the products/services offered are not environmentally friendly. They attract negative publicity and criticism from environmentalists and affect the brand image in a competitive market.
Economic Conditions Due To Pandemic: Deteriorating economic conditions affect business performance when they directly influence customers' spending habits and purchasing power.
SWOT Analysis Of Infosys Key Takeaways
The SWOT analysis of Nykaa highlights where the brand currently stands and its threats in this era. Following the detailed analysis of Nykaa, Here are Few Important Key Points.
Strong Brand Image

Well Established Brand in Beauty Sector E-Commerce Business
Wide Range of Products and Partnerships.
Presence in both Online and Offline.
Suggestions:
Following the detailed analysis of Nykaa, we have few suggestions from Business Mavericks:
Spending more on Research and Development
Increasing marketing budgets
Focusing on herbal products
Also, Read SWOT Analysis Of Patanjali.
Nykaa STP & USP
Segment: People looking for Beauty products.
Target Group: Women who prefer high-quality products offline or online store

Positioning: Nykaa offers the Best quality products in beauty products
Nykaa USP
The USP of Nykaa is providing content that guides customers to make the right selection for their beauty and wellness needs.
Nykaa Competitors
Beardo: BEARDO is a company that sells men's hair, beard, mustache, skin, and face grooming products through its online platform. It offers shampoos, beard washes, beard oils, face serums, face lotions, hair wax, mustache wax, hair serums, face washes, face scrubs, and more.
BirchBox: Birchbox is a discovery commerce platform company that provides a personalized way to discover, learn and store beauty products in the marketplace. The company offers makeup, skin, and hair products, as well as a range of collections.
L'Atelier Du Sourcil: L'ATELIER DU SOURCIL is an online retailer of beauty products. It offers scrubs, creams, mascaras, eyeliners, eyebrow pencils, concealers, makeup removers, and other products. The company also offers services like hair removal, coloring, permanent makeup, extensions, etc.

Dermage: Dermage is an online retailer of cosmetics and beauty products. It offers cleansers, masks, shampoos, soaps, lipsticks, glosses, makeup removers, etc.