Zomato is an Indian multinational restaurant aggregator and food delivery company founded in 2008 by Deepinder Goyal, Pankaj Chaddah, and Gunjan Patidar.
Let us look into the Overview of Zomato and then we can move on to the SWOT Analysis of Zomato.
Overview of Zomato
Zomato provides information, menus, and user reviews of restaurants as well as delivery options from partner restaurants in select cities. As of 2019, the service is available in 24 countries and in more than 10,000 cities.
Zomato Users Stats
32.1 Million active users in FY2021
Zomato has a presence in 24 countries and in few countries zomato is profitable.
Zomato has over 45% market share in the food serving business
62% of zomato users come through organic traffic.
Zomato has 1.4 million listed restaurants on its zomato and partnered with 35000 restaurants categorized by Glod, Pro, and others.
Zomato has over 1 million pro users on its platform.
Zomato delivery executive gets paid an avg of Rs 15,000 every month.
Zomato has acquired 14 startups to expand its market.
Still, now zomato has received over $2.1 billion in funding
According to one estimate, Zomato's annual revenue in 2020 was about $ 350 million. Of that, the company's net income was -$340 million. However, the company employs more than 5000 people to manage its global operations. Info Edge has an 18.6% stake in the company, Uber has 9.1%, AliPay Singapore has 8.3% and Antfin has 8.2%.
The tagline of Zomato is Never Have a Bad Meal.
Did You Know?
Zomato is one of the largest B2B suppliers of food and other ingredients to restaurants and other institutional customers.
SWOT Analysis Of Zomato
The SWOT Analysis of Zomato includes its strengths, weaknesses, opportunities, and threats. And in this reading of the SWOT analysis of Zomato, we will examine this beauty and wellness company in terms of its internal and external factors.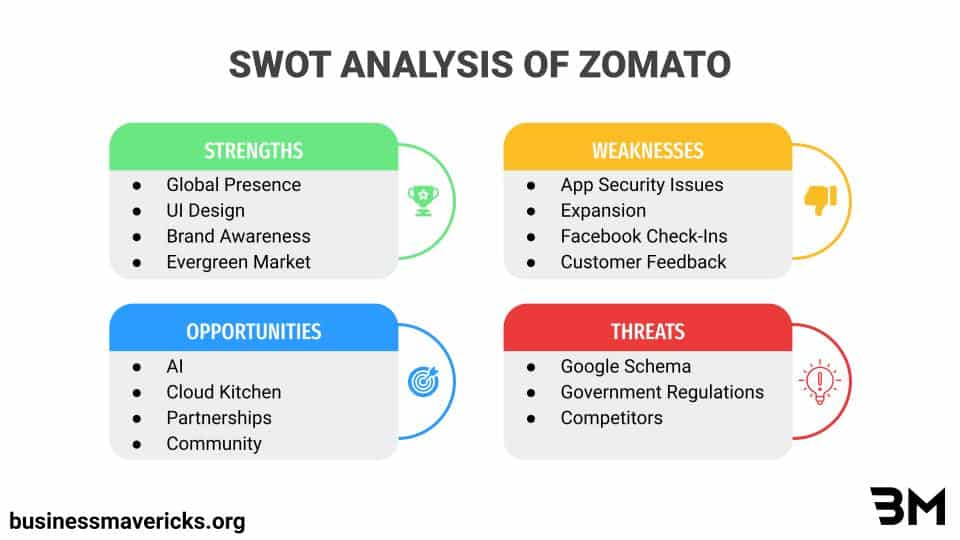 S Stands For Strengths ( Internal Factor )
Evergreen Market: The restaurant market is the evergreen market. Sure, there may be recessions and other downturns that can affect the industry. But this industry will always be around and it will only grow as disposable income increases.
Clean User Experience: Zomato has regularly won awards for its app design and usability. The design of the app is fantastic and it helps you discover restaurants nearby and in the area, you want to visit.
Global Presence: Zomato has a presence in 25 countries including the US, UK, UAE, and Australia with over 1.5 Million restaurants.
Brand Image: Zomato has earned a good image among its customers through numerous awards. For example, Online Ordering Award in India 2019, Asia-Pacific Gold Winner 2015, Users' Choice Award 2015, and many other awards over the years.
Spectacular Marketing: Zomato marketing strategy works both offline and online for its own marketing style. The print ads are funny and create an instant connexion with the audience. Zomato is strong in social media marketing and uses a combination of ATL and BTL strategies to attract and retain customers.
Did You Know? 
Zomato once promoted its brand on Pornsites in a creative way.
Asset-Light Business Model: Zomato business model simply works on charging restaurants a percentage of commission and by subscription models like Zomato Pro and Zomato Pro Plus.
Slowly Becoming Profitable: As of April 2017, Zomato was profitable in all 24 countries in which it operated. For a company that is a startup and has that much capital, becoming profitable is a big deal because many funded organizations report losses even after a decade.
Craze Among Investors: Zomato is one of the few brands where investors are aggressively waiting for the chance to pounce.
W Stands For Weaknesses ( Internal Factor )
App Security Issues: A major problem for Zomato is security issues due to which the app was hacked and at least 17 million user data was copied. Such security problems are a nightmare for internet companies.
 Expansion: when you consider that the app has established itself in 24 countries, it's a good expansion. But at the same time, the app was launched 7 years ago, and with the resources available to Zomato, expansion can happen much faster. This allows other services to establish themselves in this niche before they reach their country.
Facebook Check-Ins: Besides apps like this, word of mouth still strikes zomato in many places, and at the same time Facebook cheque-ins are a strong competitor where people may not need Zomato. So it's an app for early adopters, but definitely not for laggards.
Customer Feedback: The bad reviews and negative customer feedback drive many users away from the platform. Most importantly, when people update their status via cheque-in, they mention the location of the restaurant, not Zomato, that allowed them to visit.
O Stands For Opportunities ( External Factor )
Advancements In AI: Zomato is an online food platform. The company should invest more resources in artificial intelligence and automated technology. That would open the doors to a whole new world in terms of better security, updated features, and a more convenient user experience.
Cloud Kitchen: Zomato is launching the concept of cloud kitchen, where restaurants do not need a physical space to sell their food. Instead, they will sell through Zomato and other delivery apps.
Acquisitions: There are and have been many small players in this field. Zomato can acquire some of its competitors while keeping an eye on the tech industry and acquiring any tech innovation it can get its hands on to keep moving up.
Zomato Community: Even though Zomato has a large following on various social media platforms, it has a great opportunity by creating a community forum where users can communicate with Zomato executives.
Partnership: Partnering with mobile phone manufacturers to make zomato a pre-installed app.
Also, Read the SWOT Analysis of Frooti in a Simplified Way.
T Stands For Threats ( External Factor ) 
Google: One of the biggest threats to Zomato is Google's Schema module, in which Google locations themselves are included in restaurant recommendations. Even on the Google home page, you'll see the Google Maps page where you can search for restaurants near you. Since Google is such a big brand, Zomato faces a lot of competition.
Did You Know? 
Dunzo which is also one of the largest delivery platforms in India is Funded By Google.
Government Regulations:  Govt Regulations Like GST imposition and other types of rules and regulations may affect its business.
Competitors can easily copy their business model.
SWOT Analysis Of Zomato Key Takeaways
The SWOT analysis of Zomato highlights where the brand currently stands and its threats in this era. Following the detailed SWOT analysis of Zomato Here are Few Important Key Points.
Strong User Experience
Evergreen Market
World-Class Marketing
Suggestions:
Following the detailed SWOT analysis of Zomato, we have few suggestions from Business Mavericks:
Ai
Acquisitions
Zomato STP & USP
Segment: Young people, professionals looking for information about restaurants.
Target Group: Netizens

Positioning: Zomato offers the "guide" or "discovery experience" of restaurants & food guide
Zomato USP
Content is what sets Zomato apart – The only restaurant & nightlife guide with menus, pictures, and map locations
Zomato Competitors
Swiggy is India's largest online food ordering and delivery platform and was founded in July 2014. Swiggy is headquartered in Bangalore, India, and has been operating in 500 Indian cities since September 2021. In early 2019, Swiggy expanded into general merchandise delivery under the name of Swiggy Stores
Dunzo is an Indian company providing delivery services in 8 Indian cities: Bengaluru, Delhi, Gurugram, Pune, Chennai, Jaipur, Mumbai, and Hyderabad. The company also operates a Bike Taxi service in Gurugram. The company is headquartered in Bengaluru, Karnataka, India. In 2017, it was funded by Google. It was founded by Kabeer Biswas along with co-founders Ankur Agarwal, Dalvir Suri, and Mukund Jha in 2014.
Foodpanda is an online food delivery platform owned by Delivery Hero, a company headquartered in Berlin, Germany. Today, food panda is the leading brand for Delivery Hero in Asia and is headquartered in Singapore. food panda is currently the largest food delivery platform in Asia outside of China and operates in 12 markets across Asia.
Faasos is an Indian "food on demand" service founded in 2004. It is one of the brands of online restaurant company Rebel Foods.
Other Local Brands and Restaurants Home-Delivery Service
Thank you for reading, please subscribe to our E-Mail Newsletter ( Link Below ) to our blog to be notified when we publish a Detailed Analysis of the company.